Social approaches to sustainable growth
Three renowned experts last month shed light on socially conscious approaches to sustainable growth and profitability at a seminar on "The Hidden Path to Profit' under the Living Business series organized by HSBC in Kandy.
It was held at the Mahaweli Reach Hotel in Kandy under the patronage of Daya Weeraratne, President of the Sri Lanka - Malaysia Regional Business Council amidst a significant gathering of small and medium enterprise business leaders, HSBC said that unlike the previous seminar held in Colombo in November 2006, this seminar was conducted in Sinhala for the benefit of the participants.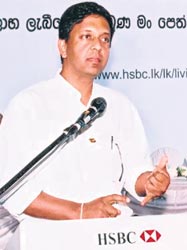 Prof Ajith de Alwis
The first speaker to start the session was Sena Peries who spoke on the Triple Bottom Line approach to business, where he urged companies to rethink their attitude towards waste management. Instead of ignoring it, attempts should be made to prevent or reduce waste at the very outset, since this will lead to lower costs and better profits.
Prof Ajith de Alwis was the next to address the gathering, and he revealed some disturbing facts about the consumption of energy against the profitability equation. Highlighting the inefficient patterns of energy consumption in the country, De Alwis called for an energy policy within businesses in order to negate this trend.
Chief Executive Officer of the Energy Conservation Fund Harsha Wickremasinghe drew the attention of the audience to the importance of increasing communication and awareness within organizations. He stressed the need for small and medium enterprises to concentrate on winning strategies as opposed to survival strategies, which on the long run, Wickremasinghe believes, would lead to efficiency in operations, and would create, and develop, opportunities for businesses to grow.
The presentations were followed by a question and answer session, which saw a great deal of involvement and enthusiasm from the audience. "Many of the participants said the seminar was of immense benefit for their business activities since it allowed them to explore new areas of development, while paying heed to social responsibility, and more than 93% of the respondents claimed that they would recommend Living Business to others," according to an HSBC press release.