We'll give one hundred and ten per cent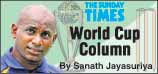 It is our moment of truth. We have now spent six weeks in the Caribbean but the remaining week will be the most crucial as four teams battle it out for cricket's biggest trophy and we are happy to be there among Australia, South Africa and New Zealand, representing not only our nation's hopes but perhaps also our entire continent's aspirations.
Our road to the semi-finals was not an easy one. We were originally slotted into what was called the 'Group of Death' — and indeed it turned out to be sudden death for India after they lost to Bangladesh. Then, in the Super Eights, we beat all other countries except Australia and South Africa, currently the first and second ranked teams in the world. But to be certain of getting there we had to first beat New Zealand.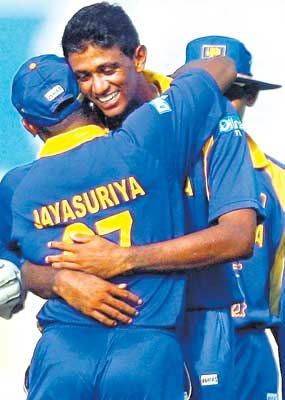 "It was Maha who started the rout with a dream over where he took three wickets, in addition to a spectacular run out"
Our plan was to try and ensure our progression to the semi-finals by beating New Zealand because then it would take the pressure away from the remaining games, important as they were. This was something we discussed beforehand, and it worked to perfection.
Vaasey, reliable as ever, began the New Zealand slide by getting the most important wicket of their skipper Fleming in the first over itself. Then, when he had Ross Taylor caught behind by Sanga also for a duck, we knew we were in with a chance of recording a comprehensive victory.
The Kiwis-like everyone else-have had their problems with Murali and his three wickets meant that we were set a target of 220 to win. My partnership of a hundred runs with Sanga for the second wicket meant that the platform for a win was set up and Sanga stayed on till the end to ensure there would be no hiccups towards the latter stages of the innings. That New Zealand Skipper Stephen Fleming delayed taking the final power-play was an indication that he knew he had very little chance of winning the game.
The next game was billed as the toughest encounter-against Australia -- but before that, we had time to celebrate the New Year on the 14th of April. Sanga's wife, Yehali who has been an interested spectator and a keen supporter throughout was at hand to prepare a special 'kiribath' for the boys. They enjoyed the meal with relish and we are all very grateful to Yehali for her culinary efforts.
Playing against Australia two days later though, our plans didn't work out quite well. Our top order, including myself, failed against some tight bowling from the Australian pace attack, especially Bracken and McGrath, who exploited the early moisture in the wicket to the maximum.
What was encouraging though was the 140 run partnership for the fourth wicket between Mahela and Chamara. It was a sterling performance because they were batting from a crisis situation of 27 for 3 against a bowling attack billed as the best in the world.
Unfortunately though, both Mahela and Chamara fell to Brad Hogg in quick succession and the innings folded thereafter. Had that not happened, we could have posted a score of around 260 which would have really tested the Aussies. But we managed only 226 and that was never enough to trouble the strong Australian batting line up.
I feel any discussion about the game against Australia wouldn't be complete without alluding to the controversy of resting Vaasey and Murali. It is a subject that has received a lot of attention over the past few days and I feel the coverage that has been given to the issue in the international media paints Sri Lanka in a negative light.
International cricket not only tests one's skills but also both the body and mind. The current World Cup tournament is no exception and as it advances it takes its toll on these vital aspects as well. For these reasons, selectors do rest key players from time to time, provided it does not affect the team's progress. The match against Australia was the perfect case in point where the outcome didn't have a bearing on our place in the semi finals.
We are here to try and win the World Cup and the selectors will naturally take advantage of every strategic opportunity so that we field our best team at optimum levels of performance once we are in the crucial closing stages of the tournament.
As for the references to the match being manipulated as alleged mostly in the international media, I do not consider these pathetic and puerile allegations worthy of comment. I wonder what those who criticise us have to say on Shane Bond and Jacob Oram being dropped from New Zealand's game against Australia!
Our final game in the Super Eights was against Ireland. With our qualification to the semi finals a certainty notwithstanding our loss to Australia, we had just one aim in this match: give an optimum performance and defeat Ireland as comprehensively as possible. Some would argue that we should have batted first after Mahela won the toss to give our batsmen some time in the middle, but we wanted to see how we could exploit the early morning conditions in our favour.
It was Maha (Farveez Maharoof) who started the rout with a dream over where he took three wickets, in addition to a spectacular run out later. Then, Murali finished the demolition job and we were left with a small target of 77. We reached 81 in ten overs and Mahela demonstrated that he is now in very good touch, scoring 39 in just 27 balls while I was happy to be there through the innings.
Perhaps the only disappointment in that game was that Upul Tharanga couldn't get back into form. Upul is an immensely talented player who is capable of changing the complexion of a game, when in full flow — and he has already done so several times.
During the last few games, he was middling the ball well but he was unfortunate because he was not getting the starts he needed and that little bit of luck which everyone needs every now and then seems to be eluding him. I sincerely hope his fortunes change as Sri Lanka heads towards the semi finals this week.
That concern apart, our worries about the injuries are slowly but surely receding. Mali has recovered almost fully from his ankle injury and is very likely to be fit for the semi final against New Zealand on Tuesday. Dilhara Fernando, who faced a similar niggle is also likely to be fit. Therefore, Sri Lanka will to enjoy the luxury of having all fifteen members of the squad to choose from for the semi finals next week.
After the Ireland game we all got together for a special occasion — Murali's 35th birthday. Murali was all smiles as we got down a birthday cake and some short eats — not easy to find in Grenada-as the boys gathered to sing Happy Birthday in a small celebration in honour of the King of Spin.
For me, it was not all happy news though. My parents telephoned to inform me that my mentor in cricket and the former Principal of St. Servatius College Matara, Gunapala Loku Galappaththi had passed away. It was Mr. Galappaththi who wanted me to take to cricket when I was just seven years old. I was extremely saddened to learn of his demise, more so because I was not in Sri Lanka to pay my last respects to him.
We leave today (Sunday) for Kingston, Jamaica where the semi final will be played at Sabina Park, a picturesque venue with the famous Blue Mountains as a backdrop. It is also the venue where Sir Garfield Sobers notched the then highest test scored of 365. Quite a few of us have played there before but it could be a totally different ball game as all the wickets at Sabina Park have been re-laid.
The first round games that were played there indicated that the ball will seam quite a bit and it is likely that the wicket will offer some bounce. It will also mean that the ball will come on to the bat more which should make stroke making easy, provided the early life in the track can be negotiated.
We know that all what we have achieved over the past weeks now rests on a single day's performance on Tuesday. We have played New Zealand many times in the recent past and it will give us added confidence before this crucial game. The mood among the boys is very optimistic and understandably so because we have performed quite up to expectations.
I am certain that all the players will give of their best for their country on Tuesday. We expect to raise our game and minimise our errors. Everyone is eager to contribute a hundred and ten percent. Our focus is on the New Zealand game and nothing else. We are only too aware that millions will be watching us back home. We are confident that we will not be disappointing them.