Chinese puzzle or a rugby season !
In the schools calendar the Bradby Shield between Royal and Trinity is arguably one of the most looked forward to events. Principal of Royal Upali Gunasekera told The Sunday Times: "The first leg is scheduled for July 09 and second on July 23. Given that it is so close to the A Level Examination some seniors may not be able to represent the school in the second leg. We have yet to receive the rules and regulations for the tournament. Hopefully we will receive it before our first game on Friday."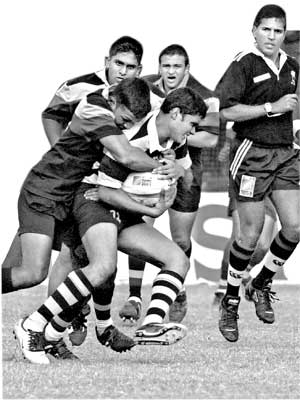 Will the Bradby Shield encounter be a victim of this hectic schools' season.
And after all the off the field battles, the Singer Sri Lanka rugby schools tournament is set to kick off this week. But to say that the tournament is going to be hectic would be the understatement of the previous century. The situation is more complicated for schools that have traditional fixtures.
Meanwhile, though St. Anthony's Katugastotota will take part, Wesley's participation remains uncertain.
Secretary of the Schools Rugby Association Rohitha Indunil stated that the association would not insist that the schools play their matches on weekends as getting officials and a ground would be difficult.
Since there are three groups of ten teams a piece, it effectively means that 27 matches have to be played every week. Development Officer for schools rugby S. W. Chang said: "With the club season also starting in a few weeks, there is no way that all the schools will have the luxury of playing their matches on weekends. There are not enough rugby grounds to make this possible. Speaking as a former player, as I understand it some schools are playing the games just four to five days apart. If it was for example like an Asian tournament where one plays three games in ten days and then it done and dusted it would be okay. But this tournament is over two months long and the present weather conditions are far from ideal for rugby. One also has to keep in mind that players who are under 18 years of age may play in that league as well. And shortly after the league is the knock out tournament. Thus to say that this kind of schedule will take a heavy toll on the players would be putting it extremely mildly. Nothing can be done this season, but I sincerely hope the administrators have a better plan for next season."
Another issue for schools is finding a referee and two touch judges. Vice President of Referees Union Dilroy Fernando said: "We are due to get the fixture list only tomorrow. There are some points that are very relevant. First and foremost a few of the top referees also coach schools. Thus that rules those individuals out. Secondly speaking as an international referee, we all have a training regimen which is why when you take the club schedule it is planned out well in advance. No referee or touch judge likes to be informed only at the eleventh hour that he has to officiate. Furthermore with the club season starting schools will have to play on week days. Otherwise we will not be able to appoint top officials for each game."
Former international referee Chang agreed. He said: "Like the players the referees also have to train. Obviously they too have to run up and down the ground for the entire duration of the game. Thus we like to know at least a week in advance which game/games we are officiating."
Managing to accommodate traditional games is not a problem limited to the top ten teams. In addition most Christian/catholic schools do not play the matches on Sunday. This season's hectic schedule has compelled these schools to do otherwise.
Chairman – Rugby Advisory Committee of St. Joseph's Ravi Thangiah said: "Finding a venue is extremely difficult. The Sugathadasa Stadium is more or less booked right through. Thus there are occasions when we have to play matches just four days apart and we also have to play two matches on two Sunday's as well. We were planning on starting our season with a match against Carey on Tuesday. But they have yet to confirm it."
Indunil said Carey could not play their game because of the Western Province under 24 tournament which kicks off tomorrow.
12 teams divided in to groups of three will battle for honours with two matches scheduled for each day. The league ends on Saturday with the top team is each group going in to the cup tournament, the second placed team in to the plate and the third team in to the bowl.
The semi finals of the bowl will take place on April 30, the plate semi finals on May 3 and the cup semi finals on May 4. The finals of all three trophies will be played on May 6.
The teams that are taking part are CR and FC, CH and FC, Havelocks, Army, Old Zahirians, Petersons, Colombo University, Sri Jayawardenapura University, Jawatte Lions, Kandy SC and Science Maroons.
The league tournament will be played at Havelocks and CH and FC, the semi finals at CH and FC and finals at Havelocks Sports Club.