Logic of the jungle
There has been a lot of hocus-pocus about a collective Sri Lankan team decision to leave out two of their strike bowlers Chaminda Vaas and Muttiah Muralitharan during their super eight encounter against Australia. At this juncture both teams involved in his match has already booked their passage into the semi-final and then the out come of this spat would only create a psychological impact on either team given the chance of a re-run on a future date during the same tournament.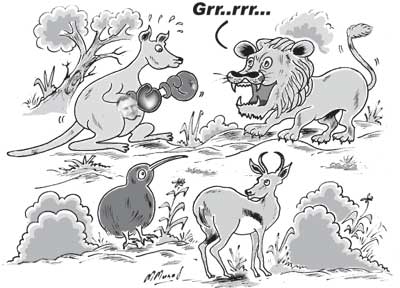 The point lies there. During the last century or a little more cricket has evolved from a Sunday afternoon summer past time of some Englishmen, to a multimillion dollar industry where the word winning means everything. However please do not get misled by the 'lone' word winning. Winning a meaningless by-game is not what they mean by everything. Everything means the 'plum' – in short The Cricket World Cup.
Then the next argument is that when it comes to winning at all costs one just cannot afford to bang your head on every lamp post that you come across. There are ways and means of tackling given situations.
On a battlefield, a tactical withdrawal does not mean that you have given up the war and are running away. It is only the usage of a ploy so that you can come back with full force on another occasion and take your foe by surprise.
It is no secret that prior to an international contest between two nations a lot of brain storming and planning of strategies go on behind the curtains. Then just imagine prior to a game of this nature the load of inputs that can go through.
Brand of cricket
When one takes the brand of cricket that Australia is playing at present –especially at this World Cup there is no argument that they are playing to a plan and are in peak form. Then strategically if a team senses that there are chances that they will have to meet them on a latter date at a more crucial juncture of the tournament isn't it all but right to an aspiring team to take precautionary measures of a psychological nature?
In Australia's view point the two countries have not met each other since the VB tri-nation final that was played in the latter part of 2005. Then the best thing that they would have liked was to have a free run against the type of bowlers of Muraltharan and Vaas who they must be considering as their main threats in the whole tournament. Then just imagine the amount of plotting that must have gone behind the Australian curtains of planning out ways of nullifying those threats by demoralizing them before they meet if given a second time. Ironically when the Australians found out that their pre-game plans had gone awry, it must have been a very irritating experience for them. So for a team like Sri Lanka making a tactical withdrawal of that nature can be understood and must be accepted.
On Friday Australia playing a game that had no bearing on the final outcome of the tournament fired all guns under no duress to take revenge from New Zealand who handed them over a 3-0 humble pie during the Chappell-Hadlee series. However had there been a stake at hand in that game, the Australians may not have taken all those liberties with the bat while at the crease.
However all these strategic moves made by a top cricketing nation in a very serious tournament has been misconstrued by some. For instance the brother of the failed Indian Cricket coach Greg Chappell – Ian, has gone to the extent of calling this move made by Sri Lanka a type a match fixing and the ICC intervention on the matter. Following him was another apologist who loves to play fiddle with the white man – former West Indian fast bowler Michael Holding. He said – "Sri Lanka`s decision to rest two key players for their Super Eights clash against Australia had opened the game to further corruption.
Sri Lanka, already missing injured strike bowler Lasith Malinga, omitted star bowlers Muttiah Muralitharan and Chaminda Vaas from the seven-wicket defeat at Grenada`s National Stadium. "I think what it does is allow people who know what is happening to get a head start if they are gambling," Holding was quoted as saying.
"Before the game started, Australia was 2-1 on. As soon as the toss went to air, when they (betters) found out, Australia went to 5-1 on because Muralitharan wasn`t playing, Malinga wasn`t playing, Vaas wasn't playing," the former paceman told `The Australian`.
Other apologists
Besides these two there have been other apologists local and foreign. But the final argument is ----- Is this the only occasion that a country has used a ploy to take advantage of a situation? During the 2005 VB series when Sri Lanka and Australia last met didn't the Australians adopt a rotational policy? During the 1999 World Cup – Once again Australia, the favourites, struggled, at the initial stages losing to Pakistan and New Zealand, and thereafter they needed to win every match to avoid elimination. However, their game against West Indies was a well calculated farce. Taking advantage of the complex points system Australia too aimed for a narrow win to ensure that both the West Indies and they went through at New Zealand's expense. Chasing a paltry West Indian total of 111 runs, Australia scored 12 runs in 10 overs. If you do not call this a ploy then what would you call it, can we ask Mr. Chappell, Mr. Holding and other apologists? Then at the same time Bangladesh's defeat of Pakistan sparked celebrations back home in the country east of India ... but there were deep suspicions cast over that result too. Just a minute -- there comes into my mind – weren't you the captain of Australia who got your kid brother to roll the ball under-arm in the last ball of a match just to stave off defeat at the hands of the kiwis way back in history?
Finally when the Lion roars the animals in the jungle knows it is a warning of another victim to fall. Right now on the Lions trail there are remains of Tigers, Kiwis, Invading White masters and disgruntled neighbours. However as the fable goes there is a lesson that the Kangaroo must learn. The lion never kills when it is not hungry.