Melting pot of adventure
There were 24 of us. Strangers thrown together from four parts of the world. Our mission? To integrate, co-exist and eventually change the way we see the world and save it from ourselves! Youth, Culture and the Environment were our only tools; the mighty Yamuna our vehicle. We had a month to live, learn and change. Mission Impossible? Well we were soon to discover…
Phase 1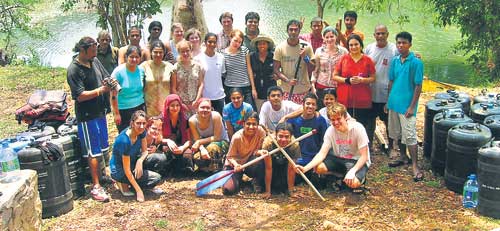 The 'Youth Yatris'
Sri Lanka – Orientation: Here we were, in a not so strange, yet seemingly unfamiliar terrain. We knew no-one and no-one knew us. Every possible barrier upheld we sat around a U-table, trying to fathom out what lay ahead of us. The Youth Yatra – Action For Change 2007, which brought us together was a project aimed at building the capacity of young people (between 18-30 years), to create a culture of sustainability through inter-cultural dialogue. And thus, the mission had officially begun.....
Ice breakers – "When I go to the Disco, I dance like this…" (each of us were supposed to say our names and do a dance move of our own and repeat the names and moves of all those who had danced before us!) It was quite a riot to say the least. This was followed by a few more "Trust Games" such as 'Free-falling" and "Caterpillar".
Team Building (Bandaragama) – The whole group was broken into three random teams and were given six barrels, 18 pieces of rope and eight planks each. We were then instructed to design and build a secure enough raft to carry at least four people at a time, along the river. We were given a duration of 2½ hours in which to complete our task.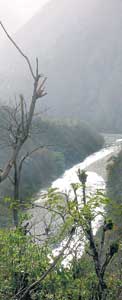 A glimpse of the Yamuna
Many blisters, bad knots and sun burns later, each of the teams had successfully produced three rather unique (somewhat dodgy looking) rafts. However, all of them as insecure as they seemed, performed quite well on water (much to our delight) and somehow managed to transport all of us across the river without any major (or minor) causalities.
Phase 2
New Delhi – Most barriers broken, we arrived at the Mahatma Gandhi International Youth Centre, where we were to be housed for a couple of days prior to heading off to the hills. Here, we were given much yummy food for thought (and stomachs of course)!
Among some of the more thought provoking discussion was that of Dr. Aseem Shrivastava on Globalization and Conflict. We were soon to find out that there was no query in this universe that he couldn't put to rest! His wealth of knowledge was so abundant and contemporary that even the most argumentative cynics of us couldn't stump him. (We don't mean to sound like two gushing teenagers in love, but, he was quite awe-inspiring!) An absolutely captivating speaker! So much so that he was brought back twice by popular demand!
The Theatre Workshop was where any remaining inhibitions were shed, new ties created and hidden talents discovered! Led by Jaya Iyer the facilitator of the workshop, we let our imaginations run wild and jointly created three pretty impressive and poignant skits based on stereotypes, media influence and fears. Through these self proclaimed "masterpieces" of ours, we actually learnt a lot about life, diverse cultures and sensitivities and how we live our day to day lives oblivious to many of these realities.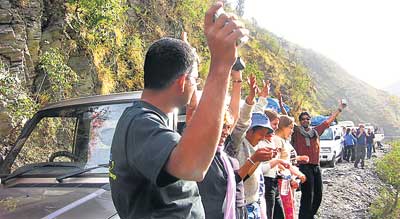 "Himalayas, here we come!"
The next day we were shown a few short movies, that dealt with a few grave and timely issues such as, global warming (An Inconvenient Truth), communal riots and inhuman cultural practices such as Sati Pooja (The Father, Son and Holy War) and a very powerful short documentary called The Miniature Earth, on the real status of the world!
This was our final day in Delhi prior to the Yatra flag-off to Mussoorie (located in north India) where we would start tracing the source of the river Yamuna and follow it back down to Delhi. We were told to observe the nature of the river and the impact human behaviour has on it.
We were soon to witness a contrastingly different Yamuna to the one we'd seen in Delhi; an almost unrecognizable version of its urban counterpart.
Our adventure continues next week…