Rahul: An empty vessel makes more noise
By Kuldip Nayar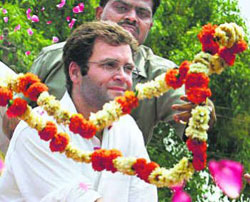 Rahul Gandhi at a campaign rally in Uttar Pradesh
The son rises. I thought some newspaper would give this as the headline to another outrageous remark by Rahul Gandhi that his family was responsible for the division of Pakistan some 35 years ago. Only a fortnight before did he say that the Babri masjid would not have been demolished if his family had been in power at the Centre. (The Congress was heading the government at that time but the Prime Minister was P.V. Narasimha Rao, a non-family member).
Rahul's obsession with the family is understandable because some of its members like Jawaharlal Nehru are the illustrious personalities of India. But Lal Bahadur Shastri or Jayaprakash Narain, non-family members, equally served the country with distinction and dedication. Rahul needs to learn and understand our past and traditions because the manner in which he is exposing himself suggests that he is not having even the rudimentary knowledge of events and leaders after independence.
When Rahul was reluctant to come before the public, I thought he was imbibing knowledge and getting ready for the appearance. I was wrong. His knowledge is very limited and says whatever comes to his mind, that too without humility. If Satish Sharma of the petrol pump scandal fame is his advisor, as I am told, Rahul cannot do better.
Rahul's remarks may have something to do with the UP election. But he tinges them with chauvinism and why they should be related to Muslims. A leading Pakistani journalist has said that Rahul cannot afford to annoy Muslims. The Pakistani journalist should understand that the UP Muslims are the Indian Muslims, part of our nation. They do not vote keeping Pakistan in view. That the Congress spokesman should defend Rahul for taking the credit for the birth of Bangladesh was the worse kind of sycophancy. But then this is nothing surprising in the party.
Since Prime Minister Manmohan Singh tells us that Rahul is the future, I shudder to imagine what the future holds for the country. Rahul is only a babe in the woods. If he is to be groomed, he should be explained the ethos of our independence movement and made to read at least the books by his great grandfather, Jawaharlal Nehru.
At present, Rahul is out of depth in politics and public affairs. His likeable quality is that he is transparent and does not play games, at which most Congress leaders, aged and dusty, is adept. But he has to have content, the knowledge of why's and how's of India's actions.
Even if he has been pushed into politics without his consent -- it was same with his father Rajiv Gandhi -- Rahul should prepare himself because the Congress looks like putting all its eggs in his basket. The leadership is not a plug of tobacco which his all-powerful mother, Sonia Gandhi, can hand him over. He will have to work hard and his will can help him.
Nehru had Indira Gandhi, his daughter, in mind as his successor. But he made her walk on the coals. She was made the Congress president at an early age. Nehru taught her how to deal with the knotty problems in the party and tall leaders like Shastri, Govind Ballabh Pant, K. Kamaraj and Morarji Desai.
Rahul is not fair to the Bangladeshis when he says that his family won them their country. It is true that India helped them since Indira Gandhi, his grandmother, was the Prime Minister when Bangladesh was born. Yet, it was their war of liberation spreading over years and it was they who suffered and sacrificed to win freedom.
The activities of the Mukti Bahini, the liberation army of Bangladesh, assisted by the local population, had assumed serious proportions. Pakistani forces were harassed and they were tired and demoralised. When the Pakistan top army official, Lt. Gen. A.A.K. Niazi, Gen Tikka Khan's successor, surrendered at Dhaka it was their glorious hour.
We were there but as fellow soldiers. I have just finished reading a novel, A Golden Age, by Tahmima Anam, a Bangladeshi settled in London. She has beautifully and boldly narrated the story of liberation, how their weak and sporadic resistance ultimately overcame the powerful and oppressive forces of Pakistan.
Rahul or anyone who wants to feel the pain and pathos of Bangladesh liberation days should read that sad, but evocative account. Let me quote a para from the book: "Thoroughout June (in 1971), Tikka Khan's soldiers made their way across the summer plains of Bangladesh. They looted homes and burned roofs. They raped. They murdered.
They lined up the men and shot them into ponds. They practised old and new forms of torture. They were explorers, pioneers of cruelty, every day outdoing their own brutality, every day feeling closer to divinity, because they were told they were saving Pakistan, and Islam, and maybe even the Almighty himself, from the depravity of the Bengalis; in this feverish, this godly journey, their resolve could know no bounds."
How much the Bangladeshis suffered at the hands of Pakistani troops. I know how the reign of terror in East Pakistan continued for weeks and countless people were killed. Zulfikar Ali Bhutto told me that according to his government the figure "is 45 to 50 thousand."
Mujib-ur Rahman, father of Bangladesh, corrected Bhutto during an interview with me: "It is strange how Mr Bhutto has come to conclude that only 30,000 to 40,000 people were killed in Bangladesh. The minimum figure is three million. Many international agencies have verified it and told me so. Moreover, 200,000 women were raped."
Rahul should have known all this. The Pakistan government has justifiably felt horrified over Rahul's remark. That India deliberately divided West and East Pakistan have been the general impression for a long time. But this is not true. As back as in 1972, when Bangladesh had become a reality Lord Mountbatten, India's Viceroy at the time of partition, reminisced during an interview in London:
"I told Jinnah that his moth-eaten Paksitan will not last more than 25 years." The wings hung like lobes on either ear of the subcontinent. Rahul's indiscretion cannot change the facts. Nor do they lessen the sufferings and sacrifices of the Bangladeshis.
Anam's book rightly says that the birth of Bangladesh is a story of passion and revelation, of hope, faith and unexpected heroism. Indira Gandhi helped them militarily but it was they who went through the fire of revolution and war. I wish Rahul will not say about things which he does not know. His sister Priyanka would do a better job. But then Sonia Gandhi, like a typical Indian woman, prefers son to daughter.