Mother prayed as son brooded in silence
By Jonathan Watts in Goyang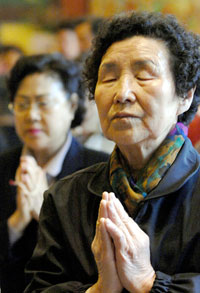 A South Korean prays for the victims of the Virginia Tech shooting massacre. AFP PHOTO/JUNG YEON-JE
The brooding silence of Cho Seung-hui was so impenetrable it disturbed his family even when he was growing up in South Korea, relatives of the Virginia killer told the Guardian. His grandfather feared that at the age of eight he might be mute; the boy's great aunt worried that he had mental problems. And his mother, Kim Hyang-im, spent much of her time in church praying for him to snap out of his unhealthy taciturnity.
"She was heartbroken," said his mother's aunt, Kim Yang-soon. "After they moved to America, she hoped his silences would ease as he grew older. But in fact they got worse." The poor family had a difficult start. Cho's mother was forced into an arranged marriage with a man 10 years her senior - Cho Sung-tae, who came from a poor family in the south but had worked in Saudi Arabia for 10 years on construction sites and oilfields. Hyang-im was from a well-educated family of North Korean landowners who had fled during the Korean war. "She didn't want to marry, but she gave in," said Yang-soon.
No one in the family recalls any violent behaviour from Cho that might have hinted at later carnage. But they were unnerved by his sullenness. "My grandson was shy even as a little boy and he would never run to me like my other grandchildren," his maternal grandfather, Kim Hyong-shik, told the Hankyoreh Daily. "I thought he might be deaf and dumb." Schoolmates told local media they remembered Cho as quiet.
But the father doted on his children. "He would have done anything for them," the grandfather said. "But now this has happened. It's as if everything they've done, the reason for their whole existence has been for nothing." The family moved to the US in 1992. During their eight-year wait for a visa, they fell short of money, selling their second-hand shop and home to make ends meet. They had visited Hyang-im's family before they left, an occasion that was only the second time the grandparents had seen Cho. Yang-soon said of the boy: "He would not talk even when I called to him. He was so quiet I remarked he must have a very gentle nature. But his mother told me he was too quiet. Soon after they got to America, he was diagnosed as being clinically withdrawn. It amazes me he ever [got] into university. I guess he must have had some mental problems from birth."
Cho's family worked hard in the US. His father worked in a laundry, to fund his children's education. His mother, a part-time waitress, attended the Korean church in Centreville, where she implored the pastor to help her son. When Cho started at Virginia Tech, his mother took his dormitory mates to one side to explain his character and asked them to help. "She was worried that he spent all his time in his room, lost in a world of video games," the paper quoted the pastor as saying. "[Cho] came to bible studies for a couple of years, but rarely spoke and never got along with the other youths." "I just wish he would have talked," said Yang-soon. "There is an old saying in Korea that people who won't talk will end up killing themselves. That is what happens when the resentment builds up."
-The Guardian