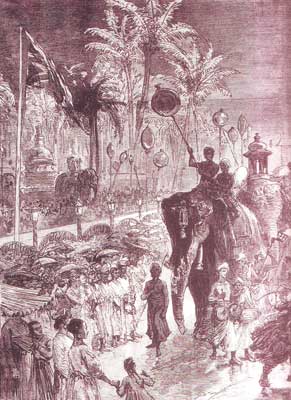 Perahera in the early days
It has been reported that Doyly along with another Englishman called Wright had walked up to the entrance to the city and met the Maha Nayaka Thera of the Malwatta Vihara and the chieftains prior to the procession being started.
An English reporter described the procession thus: "The Maha Nayaka Thera walked assisted by two younger monks. They were followed by 150 monks. A gaily decorated elephant carried a Buddha statue placed in a 'ransivige.' Flag bearers numbering sixty carried colourful flags. A troupe of drummers and female dancers was followed by whip crackers and chieftains led by Molligoda Maha Adikaram. Along with the drummers was the band of the Third Regiment.
The caparisoned elephant carrying the Relic casket placed in a 'ransivige' was flanked by four others. The tusks of the elephant carrying the casket were capped with gold covers. Riding the four other elephants were attendants carrying golden umbrellas and fanning the Relic. More whip crackers and chieftains were followed by the Diyawadana Nilame, key Kandyan chieftains, Doyly and Wright. Hundreds of laymen marched next, with six elephants carrying Buddha statues. Tens of thousands of people lined the route. Ehelepola Dissawe who found it difficult to walk, was on horseback with hundreds of supporters walking behind. The procession was about a mile long. It was well organized and dignified.
The Perahera reached the Dalada Maligawa around four in the afternoon and until the auspicious time arrived, the procession kept circling the Maligawa square. As the Relic was being taken in, a gun salute greeted the historic occasion.
As the Maha Sangha and the Kandyan chiefs placed the Relic in the big casket, those around pulled out their jewellery and other valuables and offered them to the Tooth Relic. Watching this Doyly walked out and returned with a beautiful musical clock on behalf of the Governor and presented it to the Maligawa. Everyone including Doyly walked into the Dalada Maligawa after removing their shoes."
The entire city was decked with 'gokkola' and numerous other decorations giving it a carnival atmosphere. The Maligawa square was well lit throughout the night and Kandyan dances continued without a break in the 'maha maluwa.'
The sacred Tooth Relic thus was back in the Dalada Maligawa under the protection of the British administration.