Coke leads the way in recycling waste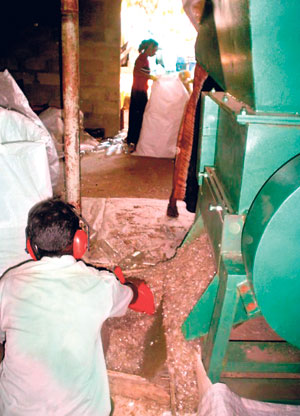 Coca Cola Beverages Sri Lanka Ltd's Demand Creation Competency Department (Marketing Department) undertook to clean up PET bottle refuse in Nuwara Eliya, as part of the company's " 'I am the values' Everest Challenge". Coca Cola Beverages Sri Lanka joined its sister companies in other parts of the world to participate in the competition, in a bid to promote the values on the company and drive home their relevance to the employees and the stakeholders.
Lakshan Madurasinghe, Public Affairs and Communications Representative Lakshan Madurasinghe, Public Affairs and Communications Representative explaining the initiative said that the company has seven values - namely integrity, individual initiative, customer value, teamwork, people development, mutual trust and respect and commitment. "SABCO (South African Bottling Corporation), the parent company of coca- cola, came up with a new initiative to promote thee values amongst employees, rather than put them up on the company walls- which most corporates do," he said.
He said that, this competition is referred to as a 'stretch challenge' where the competencies of staff are stretched in order to motivate them to go outside the comfort zones and bring in their creativity, all the while giving back to the society in some form. Explaining the outline of their project, he said that the Marketing Department after the collection effort will sell them to Eco Sans Plastics, a company that collects PET bottles to export. The proceeds of the sale will go towards developing the infrastructure of Kalu Kale Vidyalaya.
PET (Polyethylene terephthalate) waste includes PET material such as all water and juice bottles etc. "Also we hope to inculcate a fashion for recycling in Sri Lanka by changing the mindsets of people and their current habits. The importance of this project is that it can be considered as a pilot project that can be executed at national level," he added.
Anura Jasenthuliyana, Managing Partner of the Eco Sans Plastics commended Coca Cola for coming forward with such a unique project. "I was doing this on my own for about three years and no one recognised it. Coca Cola us the first to understand the value in what I do," he said.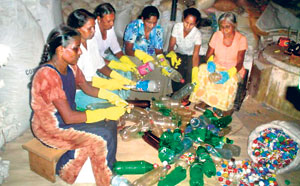 He said that 25 of 1 litre PET bottles make a kilogramme. "2400 such bottles will take one cubic metre of landfill," he said, adding that more than one million people go to Nuwara Eliya during this season and the pollution is as much as 50 tonnes in PET bottles. He said that the company recycles it by shredding it and exporting raw plastic to India and China to be used in manufacturing mainly polyester fabric.
Jasenthuliyana reiterated that recycling is not 're-using'. He said that PET bottles after using should be discarded properly." They should not be re-used because they are toxic," he said."The recycled bottles will not be re-used to produce PET bottles but instead would be used to produce textiles, polyester carpets, fiber filling for pillows, quilts," he said, adding that PET flakes are used as the raw material for a range of products that would otherwise be made of polyester.
He said that worldwide, approximately 1.5 million tons of PET is collected per year. Petcore, the European trade association that fosters the collection and recycling of PET, forecasts that in Europe alone, collection will exceed one million tons by 2010.