Derana brings blockbusters for New Year
Derana will telecast two blockbuster Tamil and Hindi movies for Sinhala and Tamil New year. Ravi Chopra's 'Baabul' starring Amithabh Bachchan Hema Malani, Salman Khan, Rani Mukherji and John Abraham will be aired on 8.30 pm on April 13 while Tharun Gopi's Tamil movie 'Thimiru' staring Vishal, Reema Sen, Shreya Reddy and Kiran will be telecast from 5 pm to 8 pm on April 14. 'Baabul' revolves around Avinash (Salman Khan) son of Balraj (Amitabh Bachchan) and Shobhana Kapoor (Hema Malini) who has returned home after seven years in the States.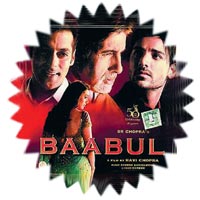 While playing golf one day, he bumps into Malvika 'Mili' Talwar (Rani Mukherji). They become friends and over the course of time, their friendship blossoms into love. They get married and are blessed with a son. Cruel fate intervenes and one day Avinash meets with a fatal accident. Life becomes unbearable for Mili. Balraj decides to bring happiness back in her life and asks her childhood friend Rajat (John Abraham) to marry her. But Mili's reluctance and opposition from other family members threaten to thwart Balraj's kind intentions.
The Tamil movie, 'Thimiru' is about Ganesh (Vishal), who comes from Madurai to continue his medical course in Chennai. A group of baddies is on pursuit. Meanwhile Srimathy (Reema Sen), daughter of Ganesh's professor, wants to meet him and thank him for helping her escape from the clutches of some vile elements. When Ganesh and Srimathy meet they are surprised, for they know each other. Meanwhile, the gangsters on spotting both vow to kill them. Why? Well, it is flashback time.