On April Fool's day, who was trying to fool whom from Baghdad?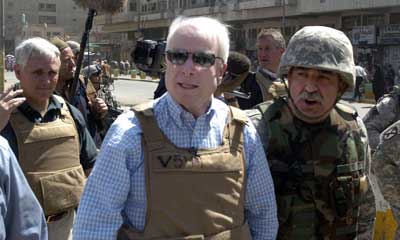 U.S. Senator John McCain (R-AZ) (C) and an unidentified military escort (R) visit the Shorga marketplace and interacted with local merchants while walking the streets of Baghdad on April 1, 2007 with General David Petraeus (not pictured), U.S. Commander in Iraq. Reuters
NEW YORK - In New York city, there has been a long political tradition where politicians aspiring for high office have to make their mandatory visits to the "three I's" — Ireland, Italy and Israel. As part of their campaign, these politicians play up to the Irish-Americans, Italian-Americans and Jews for their votes.
All three groups, whose spiritual homes are Ireland, Italy and Israel, are politically powerful constituents who can collectively make or break politicians running for office in the city. One candidate visiting Israel was photographed armed with a US-supplied M-16 assault rifle in a firing range in the company of Israeli military forces. Perhaps that helped him garner a couple of thousands of Jewish votes during his run for Governor of New York in the late 1980s.
At the national level, even politicians running as candidates in American presidential elections have a political love affair with the three I's. And now they have added a fourth "I" to their equation: Iraq. But unlike Italy, Ireland or Israel, Iraq is a deadly location for a photo-op to win votes back in the United States.
Although there are no influential Iraqi-American constituents in the US yet, a visit to Baghdad is primarily to show support for the US military presence in Iraq and to boost the beleaguered Bush administration. Last week, Senator John McCain (Republican from the state of Arizona), a former prisoner of war in Vietnam and now a candidate for his party's nomination for US president, tried to win media coverage with a visit to insurgent-ridden Baghdad.
McCain's visit on April Fool's day was not breaking news because scores of US politicians have been visiting Baghdad over the last few years. But most of them never strayed from the heavily-fortified Green Zone where virtually all of the American civilians, including diplomats, are in prisons of their own making. McCain and three other legislators — all from the ruling Republican Party who support the Bush administration — decided to take a walk in a Baghdad market place, the scene of perennial car bombings and mortar attacks.
After the walk, McCain reached out to his constituents in the US by declaring that the American public was not getting "a full picture" of the progress unfolding in Iraq. He virtually blamed the media for highlighting only the spreading violence, roadside bombings and the non-stop suicide attacks.
"Never have I been able to drive from the airport, never have I been able to go out into the city, as I was today," he said jubilantly.
But as he was insulting the intelligence of his constituents by painting a glamorous picture of a really grim US-occupied city, the military was reporting that six US soldiers were killed by roadside bombs southwest of Baghdad on the same day.
Quoting Iraqi merchants in the market place, the Washington Post pointed out that the only reason McCain had a safe passage was because of the heavy security accompanying his visit. The US legislators were not only wearing bullet-proof flak jackets but were protected by scores of American soldiers who had cordoned off the streets with armoured Humvee military vehicles while Blackhawk helicopters were hovering above rooftoops looking for potential snipers.
The protection by the American military force was described as "extraordinary." After all, they were providing security to a potential US president in McCain. But who really was trying to fool whom? Perhaps one of the biggest tragedies of the US war on Iraq is the continued feeble attempts by the Bush administration and US politicians to lie to the American public.
But not all of those lies convinced most Americans who responded by driving plenty of Republicans out of office in Congressional elections last year. Even the grim statistics coming out of Iraq belie the positive spin put out by the Bush administration ever since the war five years ago.
The total number of US military personnel killed so far is over 3,300 — and rising by the day. And in March alone, more than 2,700 Iraqi civilians were also killed. The British forces suffered one of their deadliest tolls when four of them were killed in an ambush last week — even as 15 of their soldiers were released by Iran.
As the carnage on both sides continue, the Bush administration is sticking to its failing guns despite strong opposition by Democrats who want the troops brought home at least by early next year.