Oscar winning producer recreates 'Lankan Handball Team' fiasco
Internationally acclaimed 'The Full Monty' famed director Uberto Pasolini is in town to cinematically capture the somewhat tragic yet hilarious true story of the 'Sri Lankan National Handball Team', which disappeared in Germany in 2004.
According to the news reports then the "team" had fooled the German Embassy in Colombo to issue visas for a month-long tour for the Asian- German Sports Exchange Programme in Bavaria beginning from September 8, 2004 . And the worst was most of them had never seen or played the game, which did not have any recognition in Sri Lanka. Even TSV Wittislingen in Bavaria the team against whom they played wondered about their poor play as they didn't even seem familiar with the basic rules of the game and had even difficulty catching the ball.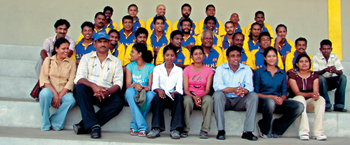 The cast in 'Sri Lankan National Handball Team' Pix by Berty Mendis
However two weeks later the 16 Sri Lankan top handball players and their 8 trainers disappeared.
In an exclusive interview with the TV Times, asked from Uberto what made him select this particular story for his derectorial venture. 'When I read this story in Australia I realised this would be a good opportunity to handle a serous subject like immigratoin, emigration, poverty, the West and policies of immigration but I wanted to do it in an amusing way. In adramatic and tragical way.'
Here follows the excerpts from the rest of the intervierw.......
TVT: The so called developed countries think that illegal immigration is a menace?
Uberto: Well I don't know if it is a menace. It is an issue, a big issue which I think the West is handling in a wrong way.
TVT: Why do you say so?
Uberto: I believe that just as freemovement of financial capital there should be free movement of the human capital. I think the immigration policy of the West has to be changed and must be open. And work permitis must be more easily available. The West rejects unskilled labour while skilled people are being trained at great cost by the developing countries.
TVT: Briefly, How did you start the film here?
Uberto: When I got the idea I tried to contact a scriptwriter. Through the internet I came to know Publisher Ameena Hussain who suggested Ruwanthi's name. Then later Prasanna Vithanage joined me. I am very very lucky. I don't think I could do the film without them. No way. I am very happy about the Sri Lanka cooperation.
TVT: Selection of the country?
Uberto: Well the story took place in Sri Lanka . Why not I tell the real story. The real country and the real story rather than invent a story.
TVT: Did you know that you are the first European making a film on Sri Lanka?
Uberto: That is what I was told. That means I am very foolish. Because a Sri Lankan story should be told by a Sri Lankan director. May be he would tell a different story in a different way to the way I would tell. It is not easy for me to understand the country and the culture and make a film.
TVT: What kind of a response you think that Sri Lankan audience would have?
Uberto: Prasanna is optimstic that the people here will accept it. It is very important that the Sri Lankans see the film. Well if it is good it will sell everywhere. If it is not it will not be sold anywhere.
TVT: What kind of respons you are expecting from the international audience?
Uberto: It will depend on the quality of the film. It is a work on the whole, completely uniform, telling reality and in an amusing way at the same time. Maybe people will like it. Otherwise it will be another foreign language film that nobody would see.
TVT Anything else you like to share with the Sri Lankan audiecne?
Uberto: I will be very happy if Sri Lankans appreciate and like the film. And I apologise in advance in case there is something Sri Lankans feel is not real.
Uberto's journey
Born in Italy a former investment banker, Uberto Pasolini entered the film industry in the international marketing and distribution departments of 20th Century Fox before joining David Puttnam's Enigma Films in the early 1980s.

His first work for Puttnam was serving as a location scout on such films as Roland Joffe's "The Killing Fields" (1984), "The Frog Prince" (1985) and Joffe's "The Mission" (1986). When Puttnam was appointed as head of Columbia Pictures, Pasolini moved to L.A. and served as vice president of production, overseeing David Mamet's "Things Change" and Emir Kusturica's "Time of the Gypsies" (both 1988).
He rejoined Enigma in London in 1988 and served as an associate producer on "Meeting Venus" (1991) and was one of the producers of the British telefilm "A Dangerous Man: Lawrence Of Arabia" (also 1991; aired in USA in 1992), which starred Ralph Fiennes.
Working with writer David Epstein, he helped to develop "Palookaville" (1995), which marked the feature directorial debut of Alan Taylor. Pasolini stuck pay dirt with "The Full Monty" (1997), which went on to become the top grossing British film and was nominated for Best Picture of the Year 1997.