AFLAC COMPLETES 2nd SWIM FOR SAFETY COURSE AT SEBs POOL in MORATUWA
The Second Training Course of the 'Swim For Safety' Project launched by AFLAC International (Association For Lighting A Candle) to train one thousand children to swim, was completed in grand style at the AFLAC/St. Sebastian's College swimming pool, Moratuwa recently.
The second batch brings the total number of children so far trained by AFLAC in this project to two hundred. One hundred children from Moratuwa, Schools - Princess of Wales Girls College,, Sri Nagasena Vidyalaya Koralawella, Sri Chandrasekera Vidyalaya, and Gamunu Sports Club Murawatte, underwent training in the month of February under two sets of reputed and experienced coaches handpicked by AFLAC . Majority of these children were from under privileged families who have never stepped into a swimming pool before nor have chances of learning swimming without exposing themselves to risk.
Parents , family members, School teachers and school mates who gathered to witness these children swimming a distance of 25 metres gave them a standing ovation every time these children touched the twenty five metre mark at the shallow end of the pool to display their prowess in swimming.. It took only 12 sessions of training conducted over a period of just one month for the coaches to train these children to achieve this gallant feat.. Each child received a certificate of participation at an awards ceremony organised by AFLAC on the final day.
The Chief Guest of this occasion, Rev. Fr. Bonnie Fernandopulle, Rector of St. Sebastian's College, Moratuwa while distributing the certificates, thanked AFLAC for the great service it is rendering to the community of Moratuwa as well as people of Sri Lanka in general. He also added that he, as the Rector of St. Sebastian's College is happy to offer this opportunity for children of other schools in Moratuwa to use the swimming pool and its facilities instead of reserving it to students of his own school only. Rev. Fr. Fernandopulle promised his fullest cooperation and blessings to AFLAC and all children who want to make use of this opportunity to make this project a grand success.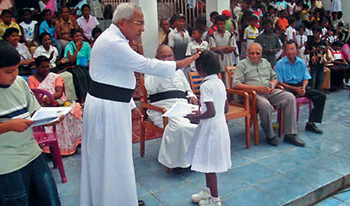 Rector of St. Sebastian's College, Fr. Bonnie Fernandopulle
distributing the certificates
Rev. Fr. John Gomes , Parish priest of St Joseph's Church, Uyana and Mrs. Geethani Silva , Principal of Sri Nagasena Vidyalaya also distributed certificates to the trainees who completed the course.
AFLAC has undertaken the challenge to train 1000 boys and girls between ages 8 to 14 years ( not restricted ) this year and children who undergo the full training course will be expected to swim a distance of 25 metres.
Interested schools and other organisations are invited to contact the Chief Coordinator of the project, Sunil Warnakulasooriya at 11/3, Dharmaratna Avenue, Rawathawatta, Moratuwa during office hours to obtain details . Telephone, 2642526. E mail swimforsafety@yahoo.com . This offer is not only open for schools in Moratuwa but for other organizations as well, which could send in names of a minimum of 28 trainees to obtain a training slot. Parents who are interested in training their children could also send in individual applications to the above address. Since the pool is of standard size, and the children will be trained in groups, the height of a trainee should be minimum four feet.
A group of trainees are given a choice of selecting the training slot of their preference . The four standard training slots are , Slot one, Monday, Wednesday and Friday from 2.30 pm to 4.15 p.m. , Slot two, Monday , Wednesday and Friday from 4.15.p.m to 6.00 p.m. Slot three, Tuesday and Thursday from 2.15 p. m. to 4.15 p. m. and Saturday 8.30 a.m. to 10.15 a.m. Slot Four is Tuesday , Thursday from 4.15 a.m. to 6.00.p.m. and Saturday from 10.15 a.m. to 12 noon.
AFLAC also offers an opportunity for trainees who completed the training course but fell short of the target, to improve their skills at a special training programme organised for this purpose.
AFLAC has already spent over 1.2 million rupees to build the Swimming pool and spends over one hundred and fifty thousand rupees to cover monthly expenses of the project.
Captain Elmo Jayawardena the founder President of AFLAC who is also the Chairman of this project leaves no stone unturned to achieve the set targets by end of year 2007.
This project is purely funded by AFLAC without obtaining any financial assistance from any other organization.
AFLAC/St. Sebastian's pool is also open to the public and interested persons could obtain membership and could visit the College Web Site www.sebsmoratuwa.sch.lk to obtain more details