Usha rekindles children's song
Young singer Ushawarni Mendis released her maiden compact disc, 'Nelum Malak Se', at the Mahaweli Centre auditorium last week.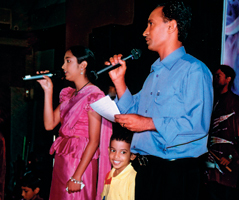 Ushawarni sings with her father
The collection included thirteen original songs written by Ven Rambukkana Sidhartha Thero, Yamuna Malanee Perera, Sunil R. Gamage, Bandula Nanayakkarawasam, Kumaradasa Saputhanthri, Kularatne Ariyawansa, Wasantha Rohana, Rathnasri Wijesinghe and Rodney Vidanapathirana for which music composed by Rohana Weerasinghe, H. M. Jayawardena, Tulin Jayaratne, Nalaka Anjana Kumara and Navaratne Gamage.
At the release Visharadha Edward Jayakody, Usha's music teacher Visharadha Kumari Udawatte and National Film Corporation Chairman, Ashoka Serasinghe addressed the gathering.
In his speech Edward Jayakody said that it was a time where children's songs could hardly be heard in today's music scene. He noted that the songs in 'Nelummalakse' have the quality of children's song which we heard several decades ago.
Hailing from a family with a background of musicians, Usha (as she is popularly called by her friends and parents) is encouraged by her aunt Preshala Mendis who sang the ever popular children's song 'Midule Weli Maligawe' and a number of other popular songs. Her father Banuka Mendis who himself is a singer and joined Usha in two songs in the collection and mother Damayanthi Mendis. The CD also has four other well-known Sinhala children's song sung by her aunt Preshala.
Starting at Newstead College, Negombo Usha passed her Grade five scholarship examination and joined Gothami Balika Vidyalaya, Colombo. Preparing for her Ordinary Level examination has made lot of achievements. In addition to taking up music as a subject at school she studies singing and violin under Visharadha Kumari Udawatte.