French Film Fiesta promotes Lankan Short films
The five best short films nominated at the Bonjour Cinema 2007 were screened during the festival last week.
The competition of Short Films was organized to give an opportunity for the emerging Sri Lankan directors to present their talent and the final films were selected by a jury comprising Sri Lankan and Foreign professionals in the industry.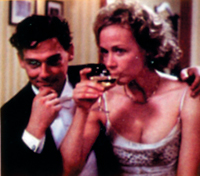 A scene from 'Earth'
The five films were Sheersha Perera's 'SHE' , Kowthaman Karunanithi's 'Seruppu', Kasinathar Gnanadas' 'Under pressure', Shashini Ruwanthi Gamage's 'My family' and P. W. G. T Dewaka Pahalawatt's 'Error on born'.
They were screened at 7.00 p. m. of each day of the film festival before the screening of the foreign film at the BMICH cinema hall.
The films were awarded at the end of the festival 'BONJOUIR CINEMA' a joint cultural event organized by the Consulate of Belgium, the High Commission of Canada, the Embassy of France, the Embassy of Romania, the Embassy of Switzerland and the National Film Corporation, in association with the Sri Lanka Tourist Board.
Meanwhile, the films 'Earth', 'Calendar Girls' and'Rosentrasse' will be screened at the Russian Centre at 3.00pm on 26, 27 and 28 March to commemorate the International Women's Day.