Boodi ready for another hit
Talented young director Boodi Keerthisena is in the pre-production stage of his latest film which he described as an 'all out entertainment'.
Famed for his previous big hits 'Sihina Deshayen' and 'Milla Soya', Boodi says the latest would be different from both his two earlier directions.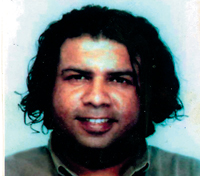 Boodi
'This would definitely be light hearted, action filled thriller' Boodi described his film.
'It might be similar to either a Hollywood or a Bollywood movie. I have been impressed by a film with the genre of 'Bad Boys' and 'Bone Identity'.
Inquired about the script Boodi said "the major part of the film will be done in the set with the cooperation of the cast and crew. It is essential that I get their input as well with the basic story line the story being developed in the locations, Boodi said.
One other feature of making this film, Boodi says this film is open to everyone to share the role of the producer. "I have an open invitation to anybody to join us in the film with any amount of money he or she has" he said.
The director is to make a choice out of two titles he has selected 'Mama' (Me) or 'Avigaththo' (Degrade). I have made up the cast but would only be released once everything is finalised, he added.