'Ridi Ittankaraya' discusses old slavery law in Sri Lanka
'Ridi Ittankaraya' the latest miniplay directed by D. G. Somapala discusses an old law of slavery in Sri Lanka.
Sriyantha Mendis, Duleeka Marapana, Richard Manamudali, Nalin Pradeep Uduwela, Nadee Chandrasekara, Chinthaka Kulatunga, Udayanthi Kulatunga, Janak Premalal, Kulasiri Mallikarachchi, Ranjana Kumara and Supun Suranga play the stellar cast.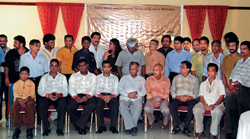 'Ridi Ittankaraya' Team
Slavery was an integral part of the serfdom. This existed even in the Kandyan kingdom and whoever fails to pay his debt was forced to work for the moneylender. The miniplay discusses this issue and the age old law.
Mudalihamy a farmer borrows hundred silver coins from Keerala. As he fails to settle it on time his whole family is forced to become slaves of Keerala. The young children of Mudalihamy have a different attitude towards this. While some admit this and decide to be slavesome try revolt against the system. Some even clash with Mudalihamy who became a landowner accidentally.
Ridi Ittankaraya discusses the mental and physical struggle the two families face.
The story is to portray the mentality, moral values, humane qualities and our own social standards.
Screenplay written by Nimal Navaratne, make up by Wasantha Vittachchi, art director Eheliyagoda Somathilaka, camera Thilak Ranjan and production executive Gunathilaka Ranawaka. For the Sinru Media international pvt, Limited 'Ridi Ittankaraya was co-produced by Chamila Wickremasinghe, Sameera Wickremasinghe and Sumith Seneviratne.