'Dedunu Sihina' getting ready
A muhurath for Dhammika Tissera's maidentele-production 'Dedunu Sihina', a detective tale was held recently. Set in an old walawwa with a mysterious past, the teledrama is mainly woven around a divorcee, Anuthtara.
The head of the Kulawansa Walawwa, Oliver has mysteriously disappeared. Now its is occupied by Oliver's wife Silvia, daughter Princy and son Binara and his little daughter Pinky. Binara is divorced from Anuththara and according to the courts decision their daughter is kept with the father. Though Binara and Anuththara lived happily it was Silvia and Princy who interfere with their lives and destroys their marriage.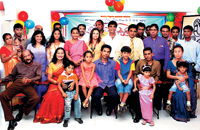 'Dedunu Sihina' team
Anuththara is the eldest in the family of four and her brother, Kusal alias Dangaya and his friend Bucket are regularly involved in crooked practices to earn money. But every time they set on a new scheme they fail and most of the time they escape from the law and their victims by running away.
Anuthtara's parents who are worried about their divorced daughter, search for suitable partner to get her remarried. Suba and Banuka, a spendthrift couple are having debts. they have not paid their house rent or vehicle rentals. They are planning to make a bogus marriage to Anuththara and get the dowry to clear their debts. Banuka is to pretend as a businessman Aravinda Suriyakumar. Suba's sister Vishmi is totally against this plan.
In the meantime as a result of another new scheme by Dangaya and Bucket, they meet Vishmi. Though they once again fail Dangaya gets interested in Vishmi and they fall in love.
Meanwhile Nayomi a university student comes to meet Anuththara. It was to write a thesis on historical walawwas and she wanted to get some information about Kulawansa Walawwa. Meanwhile investigations are opened into the mysterious disappearance of Oliver. The police discover many new details that took place during this period.
And Anuththara starts to get threatening calls. Meanwhile Nayomi continues with collecting information about Kulawansa Walawwa.
Banuka somehow makes a visit to Anuththara's house and they finalise the marriage. Unaware about Vishmi's relationship with Banuka who now pretends to be his intended brother-in-law, Dangaya invites Vishmi to his sister's wedding. Vishmi in turn is unaware with whom her brother-in-law is going have his bogus marriage.
While awaiting her wedding Anuththara is followed by a three wheeler and she disappears.
By this time a secret police investigation is conducted into Kulawansa Walawwa, its owner Oliver's disappearance, Banuka's real identity and his bogus marriages and Anuthtara's disappearance.
As the final episode reaches many complexities and secrets are revealed one by one. What happened to Oilver? Who is Banuka? What happens to Anuththara? and who is Nayomi? Await the release of Dedunu Sihina.
Douglas Ranasinghe, Semini Iddamalgoda, Palitha Silva, Sanoja Bibile, Sanath Wimalasiri, Maureen Charuni, Kumudu Nishantha, Hayacinth Wijeyratne, Malkanthi Jayasinghe, Wilson Karunaratne and Richard Manamudali with child actors Himasal Thathsara Liyanage and Himashi Tharuka Perera play the main roles.
Produced by Shantha Kumara Silva screenplay and direction by Dhammika Thisera.