'Dambulugala Sakmana' on Rupavahini
'Dambulugala Sakmana' depicting a traditional village with a serving monk telecast every Wednesday at 8. 30 pm on Rupavahini .
Directed by Sanath Abeysekera the miniplay stars W. Jayasiri, Meena Kumari, Menike Attanayake, Palitha Silva, Sanjaya Leelaratne, Suminda Sirisena, Buddadasa Vithanachchi, Hemasiri Liyanage, Nadeeka Chandrasekara, Hyacith Wijeratne and Ratna Sumanapala.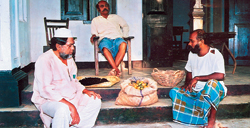 A scene from 'Dambulugala Sakmana'
Under the imperial rule, Dambulugala, a remote village is administered by the headman who is notorious for his corrupt practices. Dambulugala Hamuduruwo, the venerable monk fights against the malpractices and works for the upliftment of the poor villagers. Sobana, a village damsel and Gilbert are in love. Nicolas, a henchman of headman frames Gilbert with a false charge and has him jailed. A British official who comes to the village gets attracted to Sobana and marries her. And he takes her to Colombo. She informs her influential husband the plight of Gilbert.
Martheris a playful young man wants to start an affair with 'Pusumba' a girl who had come to Dambulugala. But certain incidents which take place forces her to leave the village. She goes to Wennappuwa to start a job as a potter. Marthelis who assures her of his good behaviour gets married to Pusumba.
Gilbert gets released and returns to the village. What is the change that would take place in the village? Would Dambulugala Hamuduruwo's effort to make a peaceful village succeed?
Watch 'Dambulugala Sakmana' every Wednesday.