Ruba sets 'Mosam Rella' surfs
Talented actor and budding director and producer Ranjith Rubasinghe's latest miniplay 'Mosam Rella' is now telecast on Rupavahini channel every Monday at 8.30 pm prime time.
To the script and concept of veteran writer K. B. Herath the teledrama revolves around a teacher who faces a series of problems because of the principles for which stands.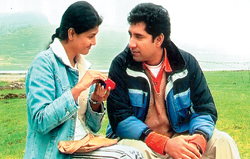 A scene from 'Mosam Rella'
Famed for his previous direction 'Ruwan Sakmana' Rubasinghe portrays an interesting tale on the vices of the tourist industry and party politics.
Gunasoma, an exemplary teacher, serves in a school in the upcountry. Standing for justice he involves himself in politics silently. His supportive wife Yaso Menika looks after the house and takes care of their three children. The eldest Dilrukshi has completed her advanced level examination and is searching for a job, while Nirupa is preparing for her exam. The youngest son Chandana is schooling. Dilrukshi is having an affair with Priyankara, a forest officer working in the upcountry and his parents are not happy with the affair. This postpones their engagement.
All goes well until one day Gunasoma faces an attack by a gang backed by a politician in the area. He gets a punishment transfer to an area where there is tourist industry. The transfer causes him many problems, yet he accepts it.
He rents a house and takes his family. Gunasoma along with a dancing teacher tries to promote the traditional dance and arts. Yet the principal Rathnapala does not get along with Gunasoma. Meanwhile a politician who fears Gunasoma's entrance to politics tries to spreads rumors against him.
Michael, a tourist guide in the coastline depends on a tourist living in Sri Lanka. One day the tourist who sees Dilrukshi, gets interested in her and insists that Michael help him win her heart. Michael who makes a plot first gets friendly with Chandana. One day Michael takes him to a hotel and Gunasoma who hears this follows them there. He finds that the hotel is a centre for many vices and he informs the police and those responsible are arrested.
Following this incident the police officer who conducted the investigation is transferred and Gunasoma is followed by a group who try to kill him. He was forced to leave the country. His attempt to get Dirukshi engaged before he leaves the country fails. And son Chandana is faced with false allegation in the school and he refuses to attend school.
Michael along with the foreigner visits Gunasoma's house. This is to win Dilrukshi's heart. Priyankara and his boyfriends gets mad about this. This opens up a series of dramatic events. What will happen to Gunasoma? Where will his family end up? Will Dilrukshi and Piyankara be able to get married? What is the fate of Chandana? Every question will be answered at the end of the twentieth episode.
Mosam Rella stars by Daya Tennekoon, Grace Ariyawimal, Tony Ranasinghe, Richard Weerakkody, Gayani Gishanthika, Chinthaka Prasanga, Ranjith Rubasinghe, Vinnie Wettasinghe, Sulakkana Mihiripenna, Saranapala Jayasuriya and Piumi Botheju.
Scripted and concept too by K. B. Ranjith Rubasinghe .