Festive holiday package from CHC
Attractive Avurudu Holiday Packages are on offer from Ceylon Hotels Corporation (CHC) during the April Holiday season in all their hotels and Rest Houses with all traditional festivities.
With three sets of long weekends in the month of April, each property will be a hive of activity as the entire nation is seeped in festivity and a holiday mood to herald in the much awaited 'Aluth Avurudu'.
Ceylon Hotels Corporation (CHC), now members of the Gardiner Group. Here is a list of the properties.
'The collection of properties feature all that you will ever need for a perfect holiday, from a full array of land and water sport activities (i.e. rock climbing, river rafting, nature walks, river bathing, cultural and archaeological excursions, boat rides, fishing, jungle safaris, etc) to tempting cuisines, refreshing cocktails and more' said Anushka Lovell, the Director Marketing and Sales of CHC.
With enviable and spectacularly beautiful locations to offer - Ceylon Hotels Corporation has an array of activities planned for this forthcoming avurudu season.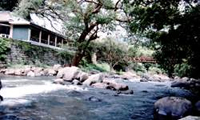 Popular Belihul Oya Rest House
'A multitude of sweet aromas will permeate the air, inviting you and your family to partake in the thrilling celebrations, as preparation gets underway for a table laden with tempting treats of piping hot 'kiribath' served with CHC's popular lunu miris, ambul thiyal, traditional sweetmeats and more mouth-watering goodies' she added.
Ceylon Hotels Corporation's team of talented chefs will prepare a delectable selection of Western, Eastern and Sri Lankan dishes along with "home' favourites" and themed buffets, which are popular amongst the locals and tourists who often visit the properties.
All bars will be transformed into a typical "kopi kade" and 'Onchillas' will be tied to trees in the garden for the children. Other traditional games of kotta pora (pillow fighting), kamba admia (tug-of-war), kana muttiya, virindu, raffle draws, pool games, cricket, and volleyball will be part and parcel of the Aluth Avurudu festivities. Entertainment will include DJ music, a calypso band, baila competition and of course the crowning of the Avurudu Kumaraya and Avurudu Kumari.
Queen's Hotel, Hotel Suisse in Kandy, Lihiniya Surf, Bentota, Tissamaharama Resort, Hotel Seruwa in Polonnaruwa and Rest Houses in Kitulgala, Hanwella , Belihuloya, Sigiriya, Ambepussa, Medawachchiya, Dambulla, Habarana, Pussellawa, Polonnaruwa, Grand Ella Motel, Bay Inn, Weligama and Kotmale Holiday Resort are the lot under CHC.