It's time to plan for the next must-win -
exclusive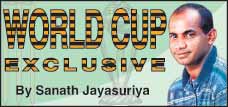 What a week it was. At any other time, any one of the events that occurred would have taken some time to come to terms with. But it all happened this week.
First there was Pakistan's sensational exit from the World Cup after losses to the hosts, West Indies, and then to Ireland last Sunday. On the same day, Bangladesh beat India sending warning signals to us, who were playing them next. India too was then facing the tough prospect of a possible elimination.
But last Sunday had more shocks in store. The Pakistan coach, the much-respected Englishman Bob Woolmer, was found dead in his hotel room. On the eve of our crucial match against India there were media reports that he was murdered. It was almost as if this World Cup was packed with shocks and nasty surprises.
We were all shocked and saddened by Bob Woolmers' death. But we were here for a purpose and that was to try and win the World Cup, no matter what the distractions were. And it was in that frame of mind that we approached the game against Bangladesh, and the knowledge that just a few days ago, they had beaten India quite convincingly.
The match against Bangladesh was, therefore, a doubly significant game. On the one hand, we couldn't afford to lose the encounter and ruin our chances of progressing in the tournament like India did; on the other hand a win would all but assure our progression to the Super Eight stage but a mere win would not be enough to ensure that -- we had to win by a big margin. So, there was no question of relaxing, just because Bangladesh was not considered to be among the strongest teams in the world.
The toss was lost and we were asked to bat; the thinking was that the ball would seam in the initial period of play and we had to be watchful and get used to the state of the wicket.
I thought both Upul (Tharanga) and I did this quite well, batting for the first fifteen overs and posting 98 runs when Upul was dismissed. But our top order demonstrated that they were all in good nick: Sanga, Mahela, and Chamara all made runs in their individual styles.
Mahela demonstrated that his knock against Bermuda was no flash in the pan and Kumar showed why he is considered a model of consistency. As I said last week, Chamara is turning out to be a find for us in the one-day game too and he scored another fluent fifty towards the end of the innings.
| | | |
| --- | --- | --- |
| | | |
| Rahul Dravid | | Sachin Tendulkar |
| | | |
| | | |
| Virender Sehwag | | Yuvraj Singh |
I myself was seeing the ball quite well when I was overcome with cramps in my hamstrings. On-field attention didn't relieve the problem. We discussed this with Mahela and decided that I should retire and get Sanga in. My score was 83 then.
Once I returned to the dressing room, Tommy (Simsek), our dynamic physio, put all his energy in trying to get me fit again as soon as possible and within the hour, I was ready again.
Fortunately, there was little change in the momentum of the innings and I was able to return at the fall of Kumar's wicket to complete my century. It was a very satisfying innings.
The conditions here in the West Indies are extremely hot and humid and used as we are to tropical weather, we still find it quite challenging. We have been asked to drink plenty of fluids before a game to minimise the chances of getting cramps. I am hoping that they don't affect me again if I bat for long in the games that follow.
When Bangladesh batted, they didn't stretch us that far; the highest partnership of their innings was only 25 runs and wickets fell at regular intervals. We were happy to see (Lasith) Malinga bag two wickets with his first spell as previously he had been more successful in the middle overs and late in the innings.
Everyone else, myself included, shared the other wickets and it was a very satisfying performance, not least because at the end of the day we knew we were almost certainly assured of a place in the Super Eights.
But our win against Bangladesh also meant something else: India would definitely have to beat us, if they were to have any chance of qualifying instead of returning home like Pakistan.
We knew therefore that the Indians would be extremely determined; we had heard that there had already been protests against the team in India after their loss to Bangladesh. So, we also knew that the pressure on the Indian team would be enormous because it was do-or-die for them.
Maha (Maharoof) had a slight niggle in his Achilles tendon and the selectors decided it would be unwise to risk his inclusion in the final eleven. Dilhara played instead and we were confident he would do well because it was obvious at net practices that he was bowling with a lot of pace and sting -- even if he had not played many internationals in the recent past.
Dravid won the toss and wanted us to take first lease of the wicket, obviously hoping to extract some life out of the surface early in the morning. True enough, in the first few overs the wicket was seaming a great deal and Upul and I decided that our objective would be to stay there and see these overs off without losing our wickets.
That meant that I couldn't score as quickly as I would have liked to but that is a price I had to pay. I was dismissed for six in the seventh over when I attempted a big hit, being caught at third man.
Then, Mahela and Kumar also were back in the pavilion and the platform for a good score had not really been set. It was 92 for three after 24 overs and we all knew that if we lost any more wickets at that stage India would run away with the game.
I know there was some concern about our middle order and after this game, I think that should be put to rest. The manner in which first Upul and Chamara and then, Chamara and Dilshan played should dispel any doubts about the susceptibility of our batting line up.
Even when Upul departed, it was 133 for four with eighteen overs still to go when Chamara and Dilshan came together. They added eighty three runs in just twelve overs. More importantly, they did so without taking any undue risks, because they couldn't afford to do that.
I consider this to be the turning point of the match. This was a day when the senior players failed to fire and the youngsters stood up to be counted when it really mattered.
We were concerned about the absence of Maha (Maharoof) at the death because he has the ability to deliver the big hits but Vaasey more than compensated, in a great partnership with Russel (Arnold). The last six overs yielded fifty three runs at nearly nine runs an over and it felt good to post a target over the 250-mark.
We carried that momentum into our bowling. It was obvious that the pitch now held no terrors for the batsmen so we had to rely on doing the basics right. Vaasey and Malinga did just that, maintaining a tight line and length and frustrating the batsmen, hoping they would be tempted into an indiscretion.
They did, but even then, it did not come easy -- it had to be backed up by superb fielding. We as a team have spent a lot of time improving our fielding and I feel it paid off on Friday. The return catch Vaasey held to dismiss Uthappa and Murali's catch to end Ganguly's innings typified the enthusiasm and intensity with which we approached the game.
Excellent fielding meant that the half-chances that came our way were converted into wickets. As a result, India was unable to get a steady partnership going. Mahela's catch to dismiss Shewag at a crucial time when Shewag was threatening to take the game away from us, was a good example of this.Of course, we still needed something special to defeat a batting line-up as strong as India's. That came from none other than Murali's magical spell. He was simply brilliant on Friday. His deliveries that got rid of Shewag and Dhoni will be remembered by those of us who were in the middle for a long time to come -- not least of all by the batsmen themselves!
Now, we have a few days rest before we take on the hot favourites — either South Africa or Australia — yesterday's losers. It is a time to regroup and think of that game as another must-win encounter because in the Super Eights stage, every game counts.
After three wins in three matches, team spirit is very high and most importantly, the boys are enjoying themselves, whether it is in the middle against tough opponents or when dining out at the numerous Chinese and Thai restaurants here in Port of Spain, Trinidad – especially those that are in the vicinity of the Savanna Park, considered by the locals as the 'world's biggest roundabout'. These little eating places are old houses that have been turned into restaurants, like what has happened in Colombo, and are just a 10 minutes drive from our hotel, the Trinidad Hilton, which has a lovely view of the sea, and reminds us very much back home.
We now conclude our programme in Trinidad with a 100 per cent success story and fly to neighbouring Georgetown in Guyana. After our recent performances, we now have the confidence to take on the big guns.
We are hopeful of another convincing performance in the coming week as we start the Super-8 round, with some extra points in the bag.
And, after our recent performances, we now have the confidence to take on the big guns. We are hopeful of another convincing performance this week in Guyana.
We would have to be at our best because our opponents would be either Australia or South Africa --and we know we will be.