Fancied Thomians suffer string of defeats
The Schools rugby season kicked off with a colourful ceremony. As part of their Golden Jubilee celebrations Thurstan's schools rugby sevens with a spectacular opening ceremony. Despite the league rugby season being in limbo, 24 teams in eight groups were vying for trophy's and perhaps more importantly prestige at the Royal College Sports Complex yesterday.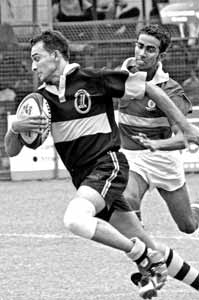 A St. Joseph's Anuradhapura player getting away from a Lumbini defender. (Picture by Saman Kariyawasam)
Sevens rugby tends to provide a few shocks and the first of the day came in just the third game. Science College with a robust display defeated one of the pre tournament favourites in S. Thomas' by 19 points to 5. At noon came the second shock as un-fancied Nalanda made sure that Thomians will be vying only for the saucer. The Thomians lost by a margin of 15 points to seven.
One of the unique features of this tournament is that there are more than eight teams from the outstations taking part. Accommodation for these teams has been provided by the organizers who are also ensuring that food and drink is given free of charge to all participating teams and their respective officials. In fact the highest score in the morning session was made by Embillipitiya Central who put 49 points past their opponents S. Thomas' College Bandarawela.
A carnival atmosphere prevailed with plenty of food stalls and a DJ. It was also a proud occasion for Thurstan who started rugby just seven years after the school was incorporated. Thus obviously the chief guest was Thurstan's first rugby captain Surath Wickremasinghe.
Meanwhile the other fancied teams got in to the swing of things. St. Anthony's Kandy cruised past Lumbini by 31 points to seven. St. Joseph's beat Mahanama by 17 points to seven. St. Petere's showed they mean business with 40 points to nil thrashing of D. S. Senanayake Collge. Ananda survived a late scare before beating Embilipitiya Central by 14 points to ten. Isipatana who have normally dominated school's rugby especially in seven's, also had a got first outing. They routed Prince of Wales by 42 points to 7. Hosts Thurstan also got off to a winning start. They beat Zahira by 19 points 12. Thurstan guaranteed their place in the Cup quarter finals with thumping 60 points to seven victory over Carey College. St. Peter's notched up the highest score the day by routing Royal College Panadura by 66 points to nil.
The knock out rounds will be played today at the same venue and following are the teams that made it in to the respective catagory. In addition an exhibition women's match between Slimline and Western Province will also kick off.
Cup:
Thurstan, Ananda, St. Joseph's, St. Anthony's Kandy, Science College, Vidyartha, St. Peter's and Isipatana.
Shield: Zahira, Embilipitiya Central, Lumbini, Piliyandala Central, D. S. Senanayake, Prince of Wales, Mahanama and Piliyandala Central MMV
Saucer:
S. Thomas' Mount Lavinia, Harischandra MMV, S. Thomas' Bandarawela, Royal College Panadura, St. Joseph's Bandarawela, C. W. W. Kannangara MMV, Royal College Horana and Carey College