Angry Indian fans react
Disappointed fans beat posters of Indian players with sandals while police protected the homes of key Indian players Saturday after India suffered a shock defeat to Sri Lanka in a World Cup preliminary match.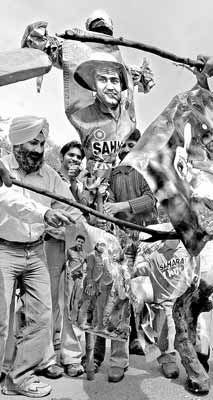 Indian Cricket fans burn posters and an effigy of the Indian Cricket team in Amritsar, following the team's loss against Sri Lanka in the World cup. India were virtually ousted of the World Cup after a 69-run loss against Sri Lanka on Friday in Port of Spain, Trinidad, drawing angry responses from fans back home. AFP
The defeat sank the hopes of millions of cricket-mad Indians who stayed awake until early Sunday hoping to see their batsmen deliver a victory against Sri Lanka in Barbados.
After tearing apart posters of Indian players, dozens of fans marched in what they described as a funeral for Indian cricket in the central Indian town of Indore.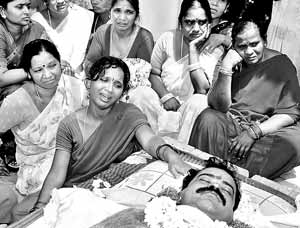 Indian woman Kavitha (3-L) cries beside the body of her cricket fanatic husband P. Raju, 32, in Hyderabad, 24 March 2007. Raju allegedly died of a heart attack after watching the Indian teams world cup defeat against Sri Lanka. AFP
Police officers took up positions outside the homes of Indian captain Rahul Dravid in the southern Indian city of Bangalore and wicket-keeper Mahendra Dhoni in the eastern city of Ranchi, Aaj Tak television news channel reported. The loss to Sri Lanka by 69 runs, coming after a five-wicket upset defeat to Bangladesh, means India is relying on Bermuda to beat Bangladesh in the last of the group matches on Sunday if it is to advance to the next round of the World Cup.
The chances of that appear to be minimal. Tiny Bermuda's World Cup debut to date has consisted of a 243-run loss to Sri Lanka, when it was bundled out for 78, and a 257-run loss to India earlier this week. India's loss to Bangladesh in its opening match last week sparked public rage, with fans burning players' photographs on giant bonfires and hurling stones at the houses of some cricketers.
''India embrace disgrace,'' read the headline in The Pioneer newspaper.
''Our team has disappointed me and the nation. We provided maximum facilities to the players and expectations from the team were quite high,'' said Sharad Pawar, chief of the Board of Control for Cricket in India. On Friday, India's batsmen, notably Sachin Tendulkar, Sourav Ganguly, Yuvraj Singh and Mahendra Dhoni, flopped miserably against Sri Lanka's bowling.
AP