Schools rugby still out of gas
To say that the schools rugby scene is in chaos would be the understatement of the previous century. The so called nursery for Sri Lankan rugby is fighting battles in court and not on the field.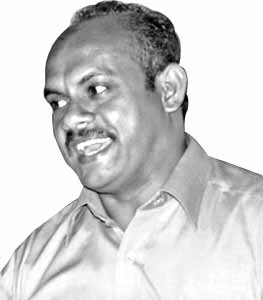 Rohitha Indunil
The Sunday Times spoke to the Secretary of the Sri Lanka Schools Rugby Association Rohitha Indunil to find out what his team plans to do. Indunil said: "We had a meeting and have decided to call all the Principals and Masters in Charge of 'A' Division schools on Thursday at Nalanda College at 10.30 am. We want ask them for proposals on how best to get this season going. The 'A' Levels are coming up in August and we are running out of time. To play just friendly matches is out of the question as there would be a lot of mis-matches. At the same time because of the Court case we cannot adopt last year's system. Thus we will select the best proposal that we get and then prepare the fixture list accordingly."
Ironically the date set for the meeting is also the same day on which the plaint filed by St. Anthony's Kandy and Wesley, will be taken up in court.
Informed sources said that the schools association was planning on drawing lots based on a colour system to determine who would play whom. Indunil refuted this and added that there was no such plan.
President of Sri Lanka Rugby Football Union Nimal Lewke has appointed S. W. Chang as Development Officer of the under 19 rugby. Chang said: "The president wants us to select a pool for the Under 19 Rugby World Cup. Rather than practicing for just a couple months, he wants the pool to be training from the outset. I think this is a good vision. But to select a pool the season must start. My suggestion would be for the Schools Association to increase the teams from seven to ten in the top division just for this year. And based on the results demote three teams next year. Up to now we have let the Association deal with the issue. But if the season does not commence soon we may have to step in."
Meanwhile all the top teams will take part in a sevens tournament to be held at Nittawella and Pallekele next Saturday and Sunday. The teams competing are: Ananda, Kannangara MMV, D. S. Senanayake, Carey, Dharmarajah, Isipatana, Kingswood, Lumbini, Mahanama, Nalanda, St. Peter's, St. Joseph's, Prince of Wales, Vidyartha, Royal, St. Sylvester's, Science College, Zahira, Wesley, Richmond, St. Anthony's Kandy, St. Aloysius, Thurstan, Maliyadeva, Trinity, S. Thomas', Piliyandala MMV and St. Benedict's.