Spree of entertainment
Drumming, singing, Latin dancing, drama… all in the course of a weekend? Sounds far fetched? Well, think again, because such a weekend of entertainment will actually come alive in Colombo this March when the Interact Club of Visakha Vidyalaya brings you Savvy Spree.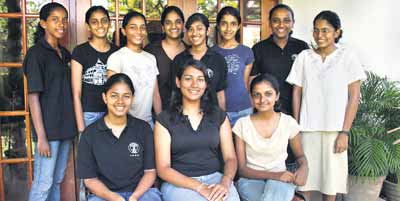 Pix by J. Weerasekera
"Interact Clubs need to organise a major financial project annually and the idea behind this year's programme by Visahka Vidyalaya was to have three different aspects of entertainment on three different days," said Amanda Wijemanne, chairperson of the project.
The weekend of entertainment will kick off from March 30, with 'Choral Eruption.' The programme will consist of choirs from Visakha Vidyalaya, St. Bridget's Convent and St. Joseph's College. These will be the three main choirs performing for this day's programmes. They have also formed a combined choir which will consist of the above along with the St. Sebastian's and Nalanda College choirs. Two young students from Muslim Ladies College will perform a duet and you can also expect rhythmic beats from the Hewisi Band of Visakha Vidyalaya.
The next day, March 31, is "all about dance," said Amanda thus the apt title for the show, 'Dance Off.' You can expect everything from Hip Hop to Latin along with Bharatha dancing, Udarata dances as well as Ballet. These will all be performed by the Visakhians and most of them will be Interactors themselves. A special item, which you can look forward to will be a Jive and Salsa performance by two professional dancers!
If fusion is your thing, then there is something for you as well, with a fusion of Hip Hop, Udarata and Bharatha dance which will also comprise students from the organising school. An ethnic/fusion feel to the evening will be provided by a group of professional drummers.
It will be interesting to note that some students who will be part of the Bharatha performance are students who have completed their Arangetram. A duet will also be performed on this day by Nilushka Perera and Geethika Chandrasiri both students of Visakha Vidyalaya.
The third and final day, will be April 1. The drama, Charandhas which won at the Jathika Natya Ulela 2006 will be performed on this day. "It is about a priest who cannot lie," said Amanda when asked what the basic idea of the story is, adding, "the play will consist of a cast of about 30 and they are all professional actors and actresses."
A little bit about the play, is that it was originally an Indian script translated to Sinhala. "Mr. Jude Sirimal who is in charge of all the Sinhala dramas helped us a lot," the chairperson added.
Amanda went on to say that the first two days of the programme will be mainly for teenagers and the third and final day will be more suited for an adult audience.
"Once we were appointed we had to come up with an idea so we first thought of doing a musical but we wanted it to be something different," said Amanda, adding, "we also wanted to make it a weekend full of entertainment." So basically one idea led to another and the result for the 2007 financial project was Savvy Spree.
It took the Interactors five months to finalise their plans and it was even harder getting schools to participate because they were going through their exams. In addition to all that sorting out finances was tough, Amanda said.
Regarding the proceeds – most will be given to a school in Piliyandala. "In fact this school was started by the founder of our school," said the chairperson. She also went on to say that they need sports equipment, computers and so on. So with the profits they intend to buy what is needed for the school. In addition, part of the profits will be going to Visakha Vidyalaya and will be donated towards their school swimming pool.
Interestingly, this year's project will coincide with the school's 90th anniversary. So all this does seem apt!
Previous finance projects by the school have been Waterloo a water ballet (2006), an evening of entertainment, Razzmatazz (2005) and Up in Lights (2004) which was a performance of songs from various musicals like Sound of Music and My Fair Lady.
Organising this event has not been a smooth road for Amanda and her crew, "it was tough but I still see the enthusiasm and they all want it to happen..." she said, adding, "they are my backbone!"
"We have all been working like a family, a team, and that keeps the project going," she said and adding that Anushka Gunawardene, her secretary and Binu Wickramasinghe, her treasurer have been immensely supportive.
While thanking R. N. Amarasinghe, principal, Visakha Vidyalaya and their staff advisors Mrs. Dineli Nugegoda and Mrs. Kumudini Basnayake for their help, Amanda adds, "without them this would not be possible."
She further stated that all the parents, teachers in the participating schools and all the Interactors have been very helpful, and thanked "the five schools, and their principals," for being part of the performance – she said it makes them happy to see that these schools are so enthusiastic about the project. The professional drummers and the Latin dancers have been really helpful and they must be thanked.
So if you are interested in an 'entertaining weekend' head over to watch 'Savvy Spree' which will be at held at the Lionel Wendt on Friday March 30 and 31 and April 1, 2007 at 7pm.
Tickets will be available at the rates of Rs.250, Rs.350, Rs.500 and Rs.750 at the Wendt and at Visakha Vidyalaya .