Mugabe says will survive Western attack
By MacDonald Dzirutwe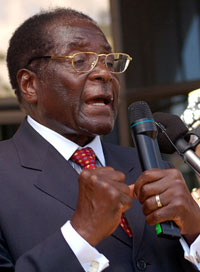 Mugabe addresses supporters at his party's headquarters in Harare, Zimbabwe, Friday
HARARE (Reuters) - Zimbabwe President Robert Mugabe has vowed he will survive a Western onslaught to dislodge him from power, saying he still enjoys majority support in his ruling party. Mugabe, who critics blame for plunging the southern African country into political and economic crisis, described himself as a battle hardened man, saying the West had always criticized him from his years as a guerrilla leader fighting white rule.
"You think if I said I am 83 years you can push me," Mugabe said to applause from supporters of the ruling ZANU-PF party at a meeting in Harare. "It's solid 83 years of the struggle, of experience, of resilience and I know the tactics (to survive)," said Mugabe. He said the 10 years he spent in jail fighting for the country's independence from white rule had hardened his resolve against imperialists.
Mugabe, the country's sole ruler since independence from Britain in 1980, is under increasing pressure over a violent crackdown on opponents, which saw opposition Movement for Democratic Change (MDC) leader Morgan Tsvangirai and dozens of political figures suffer severe injuries.
The opposition says they were brutally attacked while in police custody following a failed attempt to attend a banned prayer rally.
The injuries drew outrage from Western countries, with United States and Britain leading a call for more sanctions against Mugabe, while Australian Prime Minister John Howard said earlier he was running out of patience with Mugabe.
"Nothing frightens me, not even little fellows like Bush and Blair. I have seen it all, I don't fear any suffering or a struggle of any kind," Mugabe said. "I make a stand and stand on principle here where I was born, here where I grew up, here where I fought and here where I shall die," Mugabe said, accusing the West of sponsoring the MDC to overthrow his government.
Mugabe said he was being punished for seizing land from white commercial farmers, a move that critics say has decimated the main farm sector, worsening food shortages and an economic crisis. He said his government was trying to reverse the economic decline, which has seen inflation spiral past 1,700 percent, the highest in the world, unemployment rocketing and sparked foreign currency and fuel shortages.
Mugabe — who has traded on his legacy as a leading light in Africa's anti-colonial struggle — has been shunned by foreign donors over his nationalist policies. On Friday he defended those policies. "If the taking of our land to give our people has caused this (crisis) I will say it is my fault and I will accept that and I will stand and fight those who want to take it back," Mugabe said.