Seized British sailors taken to Tehran
Iran insists they were in its water, denounces "blatant aggression"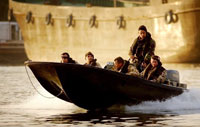 British soldiers patrol the Shatt Al Arab waterway
TEHRAN, Saturday (AP) - Iran today insisted that 15 British sailors it seized had illegally entered Iranian waters, denouncing what it called a ''blatant aggression.'' The Britons were being taken to the capital for questioning, Iranian media reported. Iran's tough comments came after Britain demanded the return of the sailors and denied they had strayed into Iranian waters while searching for smugglers off Iraq's coast.
The eight Royal Navy sailors and seven Royal Marines had just searched a merchant ship when they and their two inflatable boats were intercepted by Iranian vessels Friday at around 10:30 a.m. near the disputed Shatt al-Arab waterway, U.S. and British officials said. The Iranian vessels surrounded them and escorted them away at gunpoint.
Iran's semi-official news agency, Fars, reported that the 15 Britons have been transferred to the capital Tehran ''to explain their aggressive action.'' There was no immediate official confirmation of the move. The agency said the 15 included ''some women.''
In Britain, officials told the Press Association news agency that at least one woman was among the group.
The incident came at a time of heightened tensions over Tehran's nuclear ambitions and allegations that Iran is arming Shiite Muslim militias in Iraq, but Britain was treating it as a mistake rather than a provocation. Iranian Foreign Ministry spokesman Mohammad Ali Hosseini said Iran was carrying out a ''further investigation ... of the blatant aggression.''
''Violating the sovereign boundaries of other states and illegal entry denote unusual goals in violation of international commitments, the responsibility for which cannot be evaded under any justification,'' Hosseini said, according to the state-run IRNA news agency. Hosseini described the incident as a ''suspicious move'' and accused Britain of trying to cover up the illegal entry.
''The British officials instead of making up for their blunders should try to refrain from putting the blame on others by way of irrelevant interpretations,'' he said. Iran summoned the British charge d'affaires to the Foreign Ministry on Friday and demanded an immediate explanation.
Britain, in turn, demanded Tehran release the 15. In London, the British government summoned the Iranian ambassador to the Foreign Office, and Foreign Secretary Margaret Beckett said the Iranian envoy ''was left in no doubt that we want them back.''Britain's Defense Ministry said the Royal Navy personnel were in Iraqi territorial waters when they were seized. Cmdr Kevin Aandahl of the U.S. Navy's Fifth Fleet in Bahrain also said it was ''very clear'' they were in Iraqi waters.
''We've been on operations there for several years,'' Aandahl said. He said coalition vessels respect a 1975 treaty between Iran and Iraq that sets the boundary between the two countries as running down the middle of the Shatt al-Arab.