State move to ban migrant mothers raises storm of protests
Migrant Services Centre
Ill-advised decision to stop women migrating

It is a fact that no right thinking Sri Lankan can agree to exploitation of our women as workers in any sector, domestic service or garment factories. A fact to be observed is labour exploitation including the labour of women should be stopped as fast as our economy can develop.
In the meantime there are instruments to initiate several protective processes like reaching Bilateral Agreements with receiving countries; grant political rights to migrant workers to make their voices heard through representatives in parliament and have strong commitment to use earnings of our expatriate workers for development of the economy.
If South Korea who sent male labour 25 years ago to the Arab world to earn exchange and competed with us and other Asian labour has discontinued this practice with growth of their economy and now invite Sri Lankan workers into their country, Sri Lanka may also in future aspire to a developed county status in Asia giving a choice to our people men or women not to be exposed to exploitation on foreign soil.
As a Trade Union it is our desire that decent employment should be found for Sri Lankans within Sri Lanka though temporary overseas employment with adequate safeguards my be resorted to in the short term.
The recent ban on women migrant workers affects several categories of women like domestic workers, garment workers, cleaners,service workers, clerical and related workers and other health workers.
(a) As citizens of Sri Lanka these women are entitled by the Constitution to "Freedom to engage by themselves or alone in any lawful occupation, profession, Trade, Business or Enterprise"
(b) " Freedom of Movement and of choosing residence within Sri Lanka" and "Freedom to return to Sri Lanka". In this situation a ban on women is a violation of a citizens freedom.
Since a ban was announced several relief measures are proposed and one newspaper report said, "These women could easily engage in self employment which will enable them to earn twice the money they would be paid abroad."
This may not always be true, further, who will fund these relief measures? The Ministry of Child Development and Women's Empowerment have no voted funds. Even if they have it is taxpayers money! Or will they tap resources of the SLBFE Welfare fund? If so what is the scale of the commitment? Can the SLBFE sustain this programme on its meagre income?
The Mahinda Chintana (page 12) recalls the contribution made to our economy by those who go abroad for employment and it says "Welfare projects will be introduced at village level for the benefit of the children of those who are employed abroad. Special arrangements will be made to protect the female expatriate workers".
This ban in no way is a reflection of Mahinda Chintana.
Shutting out mothers from employment overseas or providing them alternative employment locally does not ensure that children are adequately cared for particularly in situations of absolute poverty.Another reality is that about 25% of women who leave do so on prepaid tickets or individual contracts and unless the ban is followed by a travel ban on women the crafty and influential will always find a way to creep out of a ban. Perhaps then we may have to go to the past system of exit permits for citizens to travel abroad or heavily tax migrant women workers to meet expenses of state facilities offered to parents to care for children in their absence.If the authorities wish that Sri Lanka is no longer poor to seek out foreign exchange earnings through sending women then remittances are not a critical factor. Neither are safeguards to place women in employment in less exploitative and abusive situations relevant.
It is true that migration imposes several social costs. There are several other ways that migrant sending countries have devised to reduce or eliminate such costs.
The ILO has propagated the Best Practice model which has not been tried out here. Athauda Seneviratne, when he was Minister of Foreign Employment, recruited 400 unemployed graduates and set up a special social service programme Gami Pubuduwa to address needs of children left behind.We urge the Minister of Child Development and Women's Empowerment to re-think her policy proposals; consult women's organizations; Civil Society; Trade Unions and other stakeholders; to overcome any weakness in the present system.
A recent decision by the government to ban mothers with children below five years from working overseas has drawn a lot of flak from migrants rights and human rights groups saying the decision was hasty and raises issues like will these women be given a job in Sri Lanka. Here are excerpts of statements from Save the Children and the Migrant Services Centre (MSC):
Restrictions on mothers' migration: Do they protect children's rights?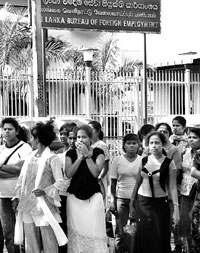 While social costs of this absence are undeniable, if the root cause of poverty is not addressed, the children's wellbeing will never be addressed in the fullest sense. Picture shows a group of migrant workers.
While this decision has been taken with good intentions and the perceived best interests of children in their early years in mind, the Save the Children, as an organisation working for the rights of children, feels that this decision overlooks several critical concerns.
It doesn't address the root causes of women's migration for work abroad. It also overlooks State and family responsibilities of providing support to children without adequate parental care, the lack of proper care plans for these children, and the dearth, and poor quality, of child protection services available. Having these mechanisms in place is a duty vested on the State and families by the Child Rights Convention.
Children's rights cannot be ensured by the restriction of women's rights to choice of employment. Neither can it be ensured by taking away from families the ability to decide what they perceive as best for the wellbeing of its members. This restrictive decision, if implemented, is going to impact mostly mothers from the poorest segments of society from where women often migrate for semi-skilled and unskilled work. This could affect around 100,000 women or more. The continued poverty of these families resulting from this restriction could quite likely put children at even greater risk than the actual absence of the mother. While social costs of this absence are undeniable, if the root cause of poverty is not addressed, the children's wellbeing will never be addressed in the fullest sense.
It is not clear that the State has really investigated why these women are going abroad, or what the gaps in their lives are that they are trying to fill. Were women's groups, grassroots women, women working abroad who have very young children, children themselves, and other stakeholders, consulted before such a cabinet decision was made?
It is evident from the recent Save the Children research titled Left Behind, Left Out: The Impact of Mothers' Migration on Work Abroad (which studied 1200 families of Sri Lanka's migrant women), that children understand the fact that their mothers often go abroad for the sake of the children themselves; to give them a better future, to see them grow up with benefits they themselves didn't have in their own childhood. As one sixteen old boy said during the research "My mother's absence makes me sad and lonely, but she went abroad for our own good." And this applies to very young children as well.
Clearly, the impact of the absence of the mother on younger children are seen to be serious as demonstrated by the research; over 22% of children under the age of six showed loss of appetite after the departure of the mother, and nearly 50% of children were under five years of age at the time of the mother's first departure.
These are critical findings that need to be addressed. But there is another side to the coin. Even though 22% of children suffered from appetite loss, these negative impacts were also due to the specific family contexts within which children were left behind, and the lack of planning for and sensitivity about the care of children left behind. If the primary caregiver was over sixty for example, the likelihood of negative impacts on children were greater, and if the father used physical punishment on children during the absence of the mother, the possibility of negative effects were again greater, according to research findings.
Children who got positive nurturing from father, grandmother or aunt, including very young children, were happy with the role of caregivers, and in fact led happy lives in spite of the absence of the mother. So what is key in these contexts are that families are supported to ensure that children are provided with a nurturing environment while mothers are abroad, rather than placing restrictions on this critical family decision.
What is even more urgently needed is to support parents to make informed decisions. There is a need to highlight to parents the potential dangers of leaving younger children without maternal support, persuading them to stay as long as possible with very young children before the decision to migrate.
If all else fails, and migration is still seen as the only option by the family, social care services need to constructively support mothers and fathers of very young children to leave behind a supportive, nurturing environment for the child in his or her critical growing years. There are stronger concerns for children under three years of age, but we do not feel that these are addressed through restrictive policies. The country's childcare services and the Sri Lanka Foreign Employment Bureau have to all join hands in such processes to ensure the country's, and these families' economic health and general wellbeing.
What these restrictive policies hide is the real gap in both the capacity of immediate and extended families, and with State and non-State protection structures, to support children without the long-term care of both parents. According to the Save the Children research, families of migrant women had no access to public social care services in 97% of the cases, and in 95% of the cases, they were not even aware of what services were available to them. This is a clear lapse in service delivery given that several State institutions are mandated to protect children in difficult situations.
The research found that 50% of caregivers who became the child's primary caregiver were grandmothers, and that only 25% of fathers were primary caregivers of children after women departed on work abroad. How are we as a country, responding to the needs of these caregivers? How can this new social phenomenon of large scale female migration be addressed at thelevel of the family, and through public social care services? It may seem a difficult task, but not undoable.
The cabinet decision is also based on a premise that women are automatically, by virtue of being child-bearers, the primary responsibility holders for childcare. The Child Rights Convention on the other hand, stresses the role of both mothers and fathers in childrearing. Why cannot a father give additional support to the child in the absence of the mother, as much as a mother often gives additional support, including working within the country, when fathers are abroad or have migrated to cities for work?
How can the state look at supporting fathers to become better childcare givers, and make them feel they are supported?
The Save the Children research highlighted specific needs of fathers; they adjusted reasonably well to the changing household and childcare roles, and showed higher acceptance of childrearing and household roles compared to fathers in families where the mothers were in Sri Lanka. However, these fathers showed higher stress levels than fathers whose wives were in Sri Lanka and consequently there were higher levels of alcohol intake among them.
What kind of constructive community-based support mechanisms can be set in place for these fathers so that their stresses are minimized, so that they feel supported, and they can support their children better?
Older women (grandmothers), who formed 50% of principal caregivers, had their own medical issues, and vast generation gaps to deal with when providing for children left behind. How can the needs of these older women be addressed? How can community care systems support these women and minimize their burden?Another key finding of the research was that education achievements of children of migrant mothers were significantly lower than those of children with mothers in Sri Lanka. Families need to be supported in addressing educational needs in the absence of the mother. How can schools provide a better supportive environment for these children? The commendable work done by the Sri Lanka Foreign Employment Bureau in this regard can be strengthened and replicated.
The government has made a valuable statement that mothers not going abroad for employment will be provided with livelihoods support within the country.
If success is envisaged of such proactive alternative employment policies, then the restriction on women with children below five would be redundant, as women will almost always automatically opt for local employment opportunities.
Policies in this sense should provide positive reinforcement rather than be restrictive in nature.
Restrictions can also lead to attempts at circumventing limitations set by policy. This could result in migration of women through unregistered means, increasing risks to their own safety and security in host countries, having clear links to the wellbeing of the children left behind.
Considering the above factors, Save the Children appeals to decision makers …
1. To reconsider the cabinet decision placing restrictions on mothers of young children from working abroad.
2. To implement strong positive policies to promote local employment opportunities for women to ensure that women stay in Sri Lanka.
3. To strengthen local child protection mechanisms to support families with children making decisions to migrate by
a. Helping families to make informed decisions that prioritize children's welfare when contemplating migrating for work abroad. If the decision is made to work abroad ensuring child care plans are in place before migration.
b. Developing specific programmes for fathers and older caregivers taking it into account their respective needs in child care and family management.