Destination Singapore
With the growing demand for well trained personnel in the hospitality and tourism field, Singapore education lays a great deal on emphasis in developing this sphere, particularly because tourism is one of the fastest growing industries in the world.
Hence the Diploma in Hospitality and Tourism Business which is a 2-year full-time conducted by Temasek Polytechnic (TP) of Singapore is growing in popularity not only because of the high standards that it maintains but also because it is done entirely in the new campus on Sentosa Island , the most attractive tourist destination in the country and an ideal place to get an all round education in this field.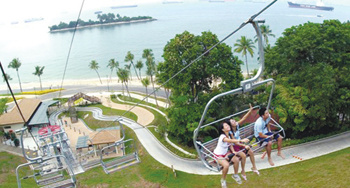 Sentosa
The diploma will help students to find jobs in sectors like hotels and resorts, travel and tourism, food and beverage, attractions, leisure, and MICE (Meetings Incentives Conventions Exhibitions) or it can serve as a pathway to a degree.
TP provides the international student with a caring environment, an excellent academic experience, a comprehensive range of state-of-the-art facilities, an opportunity to share diverse ethnic cultural practices, and hands-on experience through projects and the Student Internship Programme (SIP).
The courses are based on the philosophy that a commitment to excellence and a holistic education are essential for people who plan to succeed in the highly competitive hospitality and tourism industry. It has been designed in consultation with the industry and taught by experts working in the field. This makes the course more workplace-relevant and up-to-date, the graduate more employable.
The objective of the course is to produce graduates who possess business skills, technical know-how on key aspects of the hospitality and tourism industry, IT skills, life skills, analytical thinking, problem-solving skills, good connectivity needed in the business, positive attitudes and entrepreneurial mindset.
The Tourism Academy incorporates a variety of teaching methods. One of which is problem-based learning. With this internationally acclaimed method, students learn by tackling workplace problems and are encouraged to approach it holistically. This has proven to be efficacious in moulding students into team-players, critical thinkers, confident problem-solvers and independent learners.
The campuses also have a wide cross-cultural platform where students can learn from friends and lecturers from different countries. With English as the medium of instruction, and with Mandarin, Malay and other languages being widely used, students feel very comfortable as there is no language barrier.
Every year Sentosa with its comprehensive range of tourism and hospitality offerings makes it to Singapore's top visitor attraction list. This resort island provides an ideal setting for the learning institution to complement conventional teaching methods.
Singapore is a major tourist destination, and Asia's leading business and conventions city, attracting over 7 million international tourists a year. Those who wish to enroll for courses at this Academy can get the required information at www.tourismacademy.edu.sg.