Sarasaviya awards to honour Lankan cinema
Coming April 5 evening at BMICH would be another unforgettable day for Sri Lankan movie stars, crews, fans and everybody. Annual Sarasaviya Film Festival will make a glamorous evening selecting the 'Bests' for the years 2005 and 2006.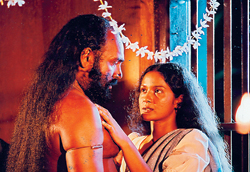 A scene from 'Bherunda Pakshiya'
For the 31st Sarasaviya Film Awards ceremony fifteen films will compete for the year 2005 while twenty for the year 2006. President Mahinda Rajapaksa will grace as the chief guest at the festival which was started in 1964.
The Sarasaviya film week comprising selected movies screened in 2005 and 2006 will be held at the Regal theatre in Colombo from March 26 to April 1, with the participation of film artistes and technicians, while for the first time in the country's film history two regional film weeks are to be held in Kurunegala and Kandy.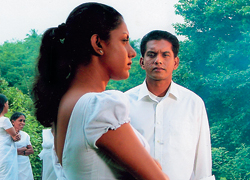 A scene from' Guerilla Marketing
The Kurunegala film week was held from March 14 to 18 at the Imperial Theatre at 6 pm daily.
The film screening in Kandy will be from March 23 to 25 at 6 pm daily at the Kandy Regal cinema. Udayakantha Warnasuriya's Hiripoda Wessa will be screened on March 23 Channa Perera's Anjalika on 24 and Wasantha Obeysekera' Sewwandi on 25. The programme will commence with a seminar on March 22 from 8.30 am to 12.30 by filmmaker Prasanna Vithanage and film critic Gamini Weragama at the Kandy Cultural centre.
The speakers will talk on various subjects including 'Youth and films', international cinema and local culture. In between the talks the audience will have a rare treat, a performance by veteran dramatist Anula Bulathsinghala who would sing a series of theatre songs.
The Sarasaviya festival will be sponsored by the People's Bank.
Films for the year 2005
Sanduni
Ira Mediyama
Asani Warsha
James Bond
Guerilla Marketing
One Shot One
Mihidum Wasanthe
Sudu Kalu Saha Alu
Samanala Thatu
Sulanga Enu Pinisa
Sulanga
Mata Thama Mathakai
Seethala Hadu
Samantha
Alu Yata Gini
Films for 2006
Naga Kanya
Hiripoda Wessa
Dedunu Wessa
Supiri Balawatha
Meddum Salu Atharin
Eka Malaka Pethi
Samu Noganna Sugandhika
Nilambare
Samara
Bherunda Pakshiya
Udugang Yamaya
Anjalika
Ranahansi
Sonduru Wasanthe
Dharma Puthra
Ali Petiyo Oyai Mamai
Double Game
Kurulu Pihatu
Sewwandi
Ammawarune