Kumudu : Actor turns award winning director
'I followed direction and made the short film merely to educate myself and not to win awards' said up coming actor Kumudu Nishantha, who won the runner-up at the short film competition conducted by the National Film Corporation (NFC) last week.
Kumudu submitted his 10 minutes long short film at the competition held by the NFC under the title 'Manushyathwaye Muhunuwara' (The Faces of Humanity) at the end of a workshop on script writing and directing conducted by filmmaker Prasanna Vithanage for two years.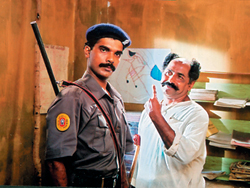 Kumudu in 'Sudu kalu saha Alu'
'At the end of the course for a group of students at the University of Kelaniya we wanted to do project, a short film. Even though it was to be done on cine due to financial constraint we had to do it with DV cam,' elaborated Kumudu.
'Prasanna Vithanage was my guru and I am glad that I was able to impress him with what I learnt from him. And there were eighty short films that were in the competition. But I believe that this award should be an honour to my colleagues who studied cinema at the 'Studio Artisans' and villagers in the rural Thalawa off Anuradhapura who provided us lodging and food and even took part in the film. I can never repay the support they gave me' Kumudu said humbly.
When Kumudu decided to make his direction he was supported by Janaka Ramanayake by offering him a camera freely and Sudath Mahadivulwewa with his editing table with an editor.
As an actor Kumudu made his impressive debut performance in Sudath Mahadivulwewa's 'Sudu Kalu Saha Alu'. This was in addition to number of stage plays and teledramas he acted. However Kumudu says that his dreams will forever be in cinema.
'Though I have number of teledramas in the line up and yet more to complete I think television is not an art form but a business' says the aspiring actor.
"I had to say no to even few films that came my way because I felt that I did not have a role in them'. "Cinema is a serious subject and even in a commercial film I should feel that there is something for me to play' Kumudu said.
Reminding his journey Kumudu says "Even as a child I felt that there is something that was nagging me. And this influenced me to study acting following several trainings and courses. I can still remember as a grade 6 kid at Madiwela Rahula College participating the training of Muthuhara children programme under Dhamma Jagoda."
Then I loved to lie on the cold cement floor and imagine things like butterflies and flowers on the instruction of Mr. Jagoda, but now I have realised they were very important in moulding our imagination and creativity.
Later Kumudu also followed the course at veteran actress Anoja Weerasinghe's Abhina Sansadaya and also trained under actor Mahendra Perera.
Anyway I had realised the importance of being an actor and in fact I thought twice when Sudath Mahadivulwewa offered me the opportunity to play in his debut film. I even asked him whether he was sure about his selection and he insisted that he had made the decision to offer the role of 'Pema' the home guard in the war destructed border village. In addition with 'Sudu Kalu Saha Alu' I was exposed to a world where I was able to work with large number of veterans in the field.
"So I did my best to fulfil the trust the director kept on me," contended Kumudu said. Asked what he as to mention about his journey Kumudu said with gratitude, "I am really thankful to Prasanna Vithanage, Sudath Mahadivulwewa, W. Jayasiri, Mahendra Perera, Anoja Weerasinghe and Janaka Ramanayake and my colleagues who supported me in my film.