Bangladesh 'A' looking for much needed experience
"Bangladesh 'A' team is embarking on this tour with profound sadness as one of the players who was to have joined the tour party later. Mauzar (Rana) died under tragic circumstances (motor cycle accident). Said Manager – G.M. Nowsher.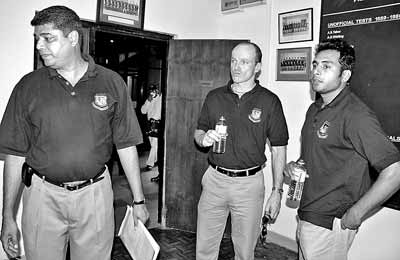 Bangladesh 'A' team manager G.M. Nowsher (Right) with Coach Shaun Williams and skipper Tushar Imran in discussion. (Pic by Ranjith Perera)
This was revealed at a Media confab to outline the tour programme held at the SLC headquarters last afternoon.
The meeting was chaired by Mr. Jayantha Dharmadasa the president of the Cricket Interim Committee.
"Our aim is to perform well on this tour giving that much needed exposure in competitive cricket to the youth players to further improve their skills levels whilst playing in different conditions" said Australian coach, Shaun Williams. He has abundant experience from (Victoria Northern Territory, ACT Head Coach), Canberra. The average age is between 23 & 24. They are growing fast and are prepared to learn.
This tour by the B'desh 'A' team is to further cement understanding and reconciliation via cricket. (The tourists open their tour tomorrow – 4-day match at the Colts CC grounds.
Tilan Samaraweera, the captain of the Sri Lanka 'A" team a seasoned campaigner at international test level said "Our aim is to win. But will also strive to maintain the spirit of the game. The present B'desh 'A' team is no pushover".
Anura Tennakoon the Manager of the 'A' team said. "One can't judge skill levels in one-day cricket. But in the longer duration of the game, better application, concentration and temperament could be observed.
The 'A' team has been working hard under coach Hathurusinghe. Bangladesh cricket is flourishing and growing fast. Before long they will be a force to be reckon with.
Two minutes silence was observed as a mark of respect to Manzar (Rana) before the meeting.