Gibbs rewrites cricket history
Herschelle Gibbs clobbered his way to a first in international cricket, swatting 6 sixes in one over Friday in South Africa's 221-run World Cup win over Netherlands.He earned US$1 million (euro750,000) for charity, and magnified the gulf between the Test and the Associate teams that will likely keep growing wider on the small grounds in the Caribbean.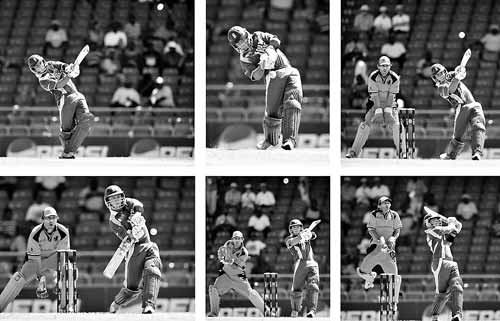 Herschelle Gibbs hits six sixes off an over from Netherlands' Daan van Bunge as wicketkeeper Jeroen Smits watches during their World Cup cricket match in Basseterre. In this combination image. Gibbs became only the third man ever to achieve the feat in first class cricket and the first in the World Cup. The sixes are shown in order from top L-R followed by bottom L-R.
''It's up there with the best things I've done,'' Gibbs said. ''I never thought about getting six in a row but if it's your day, it's your day.''
South Africa's winning margin was the third-largest in World Cup history. The record of 256 has narrowly survived on three consecutive days: defending champion Australia beat Scotland by 203 runs on Wednesday _ also at Warner Park in St. Kitts _ to claim the second-highest margin, less than 24 hours before Sri Lanka trounced Bermuda by 243 runs in Trinidad.
In a more pivotal match at St. Lucia, allrounder Scott Styris guided New Zealand to a six-wicket win over England in a result that should determine No. 1 and No. 2 in Group C.
England beat Australia and New Zealand in a limited-overs tri-series in January and came to the Caribbean confident of at least making it beyond the first round for the first time since 1996.
''It's not a great start and we have to make sure we win the next two games to get into the Super 8s but it's certainly not the end of our tournament by a long way,'' England captain Michael Vaughan said.
The English were coasting with Kevin Pietersen (60) and Paul Collingwood (31) at the crease, until Styris dismissed Collingwood, triggering a collapse of three wickets in seven balls.
Despite Paul Nixon's cameo 42 at the end, England's 209-7 never looked like enough.
Jimmy Anderson, playing with a splint on his broken finger, did his best to give England a chance by taking two wickets as New Zealand crashed to 3-2 and 19-3 in reply.
But Styris posted an unbeaten 87, sharing a 54-run stand with Craig McMillan (27) which steadied the innings and an unbroken 138 with Jacob Oram (63) to lift New Zealand to 210-4.
''A nervy win,'' New Zealand captain Stephen Fleming said. ''Brilliant to get the two points in the bank. The first game could have a massive bearing on certainly the next stage. To win it and get across the line was a great relief.''
There was no relief in sight for Daan van Bunge, the 25-year-old Dutch legspinner who will enter cricket lore for being the first bowler ever to concede six sixes in one over of international cricket.
''After the fourth one, I thought it could be on,'' Gibbs said. ''The idea was to have another two goes at it (the record), and luckily I didn't miscue any of them, so it was quite nice. I was lucky the straight boundaries were quite small.''
Van Bunge grimmaced, Gibbs smiled and half waved his bat at the crowd before ambling down the pitch to high-five his batting partner.
Tournament sponsor Johnnie Walker confirmed it would donate US$1 million (euro750,000) to Habitat for Humanity housing projects to commemorate Gibbs' feat _ only two days after launching the 'Six Sixes' challenge.
It had happened only two times before, both in first-class matches. West Indies great Sir Garfield Sobers did it in 1968 at Swansea, and Indian allrounder Ravi Shastri in an Indian domestic match.
Gibbs did not dominate South Africa's scoring, however, out for 72 in the over after his 6-6-6-6-6-6 sequence.
AP