Plantation jobs unattractive to children of workers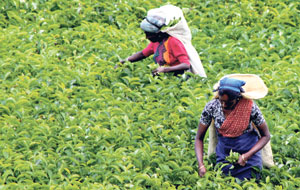 Nuwara Eliya-- P. Jayarani, an estate worker is vehement about finding a 'better job' for her two children. "I am not going to send my children to the estate for work. I want them to be happy in better jobs," she said. She is hopeful of their future because all three are good at their studies. Her friend, S. Rajeswarie, also an estate worker and mother of three echoes Jayarani's comment. "I have been working here for the last 13 years without any improvement in my life. I will not send my children to an estate to work even if they want to. I want a better life for them."
According to plantation industry statistics, there is an increasing reluctance on the part of the children of workers to follow their parents and grandparents. J. Abeywickrama, Secretary, Ministry of Plantation confirms this. "There is about a 10 to 20 percent annual reduction of estate workers which is mainly due to social stigma," he said, adding that many plantation firms are facing this dilemma.
G. Rasaiah, Senior Vice President Federation of Chambers of Commerce and Industry –Nuwara Eliya branch said that many youngsters prefer not to work in the estates. "They want to further their education, Computer and English learning institutes have helped them a great deal in this regard," he explained.
He further said that some years ago, estate work attracted many people, due to lack of opportunities, but now the picture is different. "The increasing trend of people leaving estate work is mainly due to their perception of such employment as labour work," he said.
The new age of mobile phones, satellite television, three wheelers, easy payment schemes and trailer bikes have added an elevation of quality to the younger generation's lives as opposed to their parents and forefathers.
"Earlier there were no opportunities, but now there is a demand for higher categories of jobs," he added. Rasaiah further said that the pay is also not as attractive as 'outside work' or other jobs that these people might want to do. "They can earn double or triple from work outside and there are many people who take up work on contract outside," he said.
S. Seetha said that both she and her husband are employed as estate workers. "Since I was 18, I have been working as an estate worker. I have four children aged 12, 10, 8 and 4 years. I want better jobs for them. I do not want then to work while it rains, stand in the sun and walk for miles. Both my husband and I do not want them to go through the pain and toil we have gone through," she reiterated.
S. Manivanan is attached to the clearing plant at Agrapatna, Unilever factory. "I went to school and looked for work when I found this job at Unilevers. I have been working here for 14 years and now I am confirmed in employment," he said, adding that his three children aged eight, six and four years will 'never' work in an estate . "I do not want to put them in trouble."
Some feel the worker attraction in Southern estates is a much bigger problem. Dhayan Madawala, CEO, Hapugastenne Plantations Limited and Udapussellawa Plantation Limited said the youth in certain areas such as in the plantations of the South do not want to join the estates.
"The girls prefer to join garment factories and the boys usually take up contract work rather than work in plantations. This is more acute in the South than in the up country, because the youth in the South I feel have more opportunities," he explained, adding that plantations in Ratnapura and Rakwana face this problem much more.
Madawala also pointed out that Middle Eastern employment has also lured many young people from estate work. Industry stakeholders point out that the 'water finds its own levels' - -- meaning that workers would move to the best-paying jobs. Lucas Bogtstra, Director Operations at Malwatte Valley Plantations said that the workers keep migrating to Colombo for better pay. "The cost of production at tea plantations is the highest in the world. The wage increase of the employees is not hooked to production," he explained. "In such a situation it is hard for the plantation sector to fork out more pay for them to reatin them," he further said.
Both the government and the private sector have realised this dilemma, but they are still stumbling on the solution. Abeywickrama said that the Ministry has recognised the issue. "We need to upgrade the housing of the estate workers and improve the technology in the plantations," he pointed out.
But many industry stakeholders contend that the only way to escape the problem is to mechanize the worker functions in the estates. However, Abeywickrama is skeptical. 'You can mechanize certain functions, but there are certain things you cannot." Further explaining, he said that Sri Lanka is famous for plucking. "It you use the machines for plucking we will lose the market we have, because machines do not employ the same technique compared to plucking," he said.
He said that the pluckers pluck two leaves and a bud, which is the standard which Sri Lanka is famous for. "But if we mechanize this function we will not be able to pluck like that," Abeywickrama said. However, he said the Asian Development Bank (ADB)-funded, Plantation Development Project provides for mechanising plantations. "This will be done gradually," he added.
Bogtstra said that the plantation functions such as harvesting are already being mechanised in some plantations. "We are also outsourcing functions such as transportation," he added. Apart from the concern of the lower employees, the industry is also facing the issue of attracting middle management into the plantation sector.
"Almost all married males who are in middle management do not take a liking to working in a plantation as opposed to their predecessors," Abeywickrama said. Madawala also confirmed this saying that the life style of the new generation has deterred them taking to jobs in the estates, "Schooling of the children and more diverse opportunities have led them away from plantations," he said. He said that annually there is about a 10 percent reduction in middle management.
Rasaiah said that that the younger generation sees many limiting factors in such jobs. "Their freedom is limited and they are confined to the estate," he said, adding that there are many 'choices' and broader horizons for young people unlike in the 'good old days'.
Rasaiah said that as opposed to the trend, it is the agricultural graduates who get into planting.
"Also managing plantations and controlling estate workers is a tough job," he said. Echoing his comment, Bogtstra said the main reason for younger generation to not take up planting is due to boisterous workers. "The unions are strong and the management cannot control labour," he said, adding that areas such as Talawakelle have seen boisterous workers."It is not a happy medium to work in anymore," he said, adding that planting is a lonely life.