Young Scientists from UK
Four young scientists from UK were in Colombo recently to help stimulate an interest in Science and inspire students to view science as an exciting, challenging and empowering subject. Each of them has made outstanding achievements in their respective specialisations.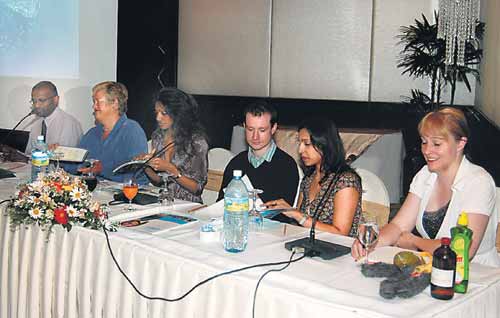 Pic by Ranjith Perera
Speaking at their reception, Country Director of the British Council of Sri Lanka, Gill Westaway spoke of their aims. "We want to showcase UK Science, raise the profile of science and improve perception of science as a career option." Though Science is popular, she thinks students should go into the different branches of science and see that it could be interesting and fun.
Science is not very popular in Sri Lanka according to Chairperson of the National Science Foundation, Prof. Sirimali Fernando. While fewer children seem to opt for Science, those who do graduate in it go for unrelated jobs, she says. It is worth noting that the country currently spends less than .2% of GDP on Science. Through efforts of scientists and the Ministry of Science it will be increased to 1% shortly, the Chairperson states.
Enumerating their science popularisation programme, she talked of the challenging task ahead to take the message of science and scientific thinking to 19 million people in two main languages.
The young scientists were either winners or finalists of UK FameLab 2005/2006, which is the American Idol of the scientific world. During the week the ambassadors visited 12 government and private schools in Colombo and talked to students, communicating their passion for science and showed that it can be interesting and fun, given the right attitude and approach.
It is hoped that the enthusiastic scientists in a face to face interaction would provide A/L students with positive role models whom they can easily identify with and dispel negative perception about scientists as white coated and boring individuals and that they view science as a positive career option.
In a FameLab Video clip, the young scientists were recognised for their ideas that can change the world:
Dr. Sarah Forbes-Robertson who has specialised in Biological Science and Genetics/NeuroScience works in the Human Cancer Studies Group studying Breast and Thyroid cancers. At the seminar in schools she dealt with the topic 'Why do our fingers grow where they do?', looking at some of the genes and mechanisms involved in pattern formation in development. She used a variety of vegetables and model props to illustrate her talk.
The Big Bang theory and a discussion of how we know the universe is expanding was the topic discussed by Dr. Sima Adhya whose Ph.D is on how spacecraft wobble in their orbits because of sunlight. The Space mission scientist is currently working on a European Space Agency Mission study to deflect an asteroid to prepare for when the earth is really threatened by an asteroid collision.
Dr. Jonathan Wood who has specialised in Bioengineering and Nanotechnology dealt with the subject 'What Mother Nature can teach us about materials, motion and manufacturing.' Jonathan's winning talk at the FameLab final 2006 was on why the amazing spider-man might have used spider silk to swing between buildings in Manhattan. At the students seminar he used simple demonstrations to describe how researchers are using the latest techniques to copy nature's engineering strategies to make new and better materials for our own needs.
Born to a Malaysian mother and Sri Lankan father, Dr. Shini Somarathne, an Engineering Doctorate in Computational Fluid Dynamics detailed how fluids (gases and liquids) behave in a whole host of situations.
From air streaming over Formula 1 cars and airplane wings to water gushing past the hull of ships or inside drinking water pipes, she explained how the way air moves, can affect how fast they can go.
The scientists apparently were talented in other areas too: Shini was a TV presenter, Sarah a Salsa teacher and Jonathan a research journal editor, each looking vibrant and friendly, different from the normal image one has of scientists.
Of the importance of science, "The world is changing and we need to make fundamental decisions to protect the world from global warming and other climatic changes," Sima says, adding that all of us should have a say in our planet.