'Dhana Rina' is Roy's latest
Roy de Silva's latest directorial venture 'Mr. Dhana Rina' starring a popular cast with Sangeetha Weeraratne, Arjuna Kamalanath, Roshan Pilapitiya and Suraj Mapa will be released at National Film Corporation circuit theatres from February 23.
Produced under the loan scheme provided by the National Film Corporation, the film revolves around the lives in a fishing village.
Anthony a leader in the village is well respected. He helps everyone in the village and he is known as a just person. Anthony lives with his wife and children peacefully.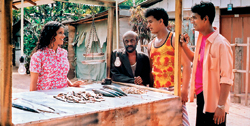 A scene from 'Dana Rina'
Francis, a close relative of Anthony is a fish monger and he is addicted to alcohol. As a result Francis can not fulfill his responsibilities to his son Michael. Roshan, the son of a politician in the area and Michael are close friends. They are separated when Roshan is sent abroad for higher studies. Michael who gives up his education starts fishing with the help of his uncle Anthony.
As time passes the fishing village is shocked with the news that Anthony's family is massacred by an unknown group. It is only Rita, Anthony's daughter who survives. Michael who decides to look after her treats her like his own sister. Years pass and Michael like his uncle wins the hearts of the villagers. Roshan his old friend returns and they resume their friendship once again.
But Roshan's father objects to this friendship and advises his son not to get involved with common people and lose his dignity. He is further advised to take up to politics. But Roshan objects this and a conflict arises between father and son.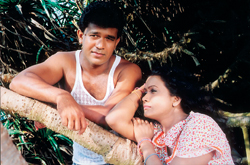 A scene from 'Dana Rina'
This clash continues and Roshan comes to know about the killing of Anthony's family members decides to uncover the truth… What is the ultimate reality- Who is successful Mr. Dhana or Rina?
The rest of the cast include Sunil Hettiarachchi, Priyantha Seneviratne, Rajitha Hiran, Ranjith Perera, Teddy Vidyalankara, Tyronne Michael and Anusha Damayanthi.
Edited by Elmo Halliday, Art directed by Suneth Nandalal, make up by J. A. Suranimala and camera by G. Nandasena. The film is being screened on NFC Ridma circuit theatres including New Olympia Maradana and Ritz Borella.