Rajans fight back to stall Ananda
Made to follow on Dharmaraja College Kandy, thanks to a determined and entertaining fourth wicket stand of 85 runs between R.Y. Sooriyarachchi (77 in 135 balls, 10 fours and a six) and R.M.J.C. Ratnayake 68 (96 balls, 6 fours and a six), helped them total 230 for 5 against Ananda at close in their inter-school game which ended in a draw at Ananda Mawatha yesterday.
This match, played for the legendary P.W. Perera memorial trophy was started in 1999. Ananda won the inaugural match under Jitendra Perera, son of the present coach Udayananda Perera. The Perera trio all hail from from Ananda. Since then it has been a stalemate.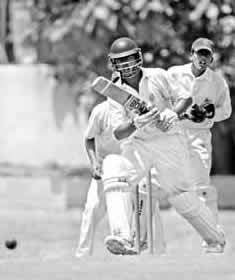 Peterite opening batsman Srimantha Wijeratne plays a firm shot. Pic by Ranjith Perera )
Ananda electing to bat first made 283. Opener Udara Jayasundare hit a sparkling 105 (in 148 balls with 19 fours). Wiswa Wijesuriya weighed in with 80 (13 fours, 116 balls). Dharmaraj in reply floundered against the wiles of Udara Peiris (6 for 58) and were all out for 181.
Ananda skipper Malith Gunatilleke has taken 85 wickets for the season.
On February 19 and 20 Ananda take on St. Joseph's at Darley Road.
Ananda 283 (Udara Jayasundara 105, P.E. Seneviratne 20, Wiswa Wijesuriya 80, D.H. Chandimal 48, R. Sooriyarachchi 4 for 68, T.B.N. Batangala 58, R.M.J. Ratnayake 47 n.o; Udara Peiris 6 for 48, Malith Gunatilleke 2 for 38) and 230 for 5 at close in 68 overs (R.C.K, Abagastota 22, B.M.B. Ekanayake 15, U.A. Wijesiri 24, R.Y. Sooriyarachchi 77, M.J.C. Ratnayake 68; Malith Gunatilleke 5 for 71)
Dharmarajah 3 for 81 cont 181 (U.A. Wijesiri 40, T.B.N. Batagala 58, R.M.J. Ratnayake 47 n.o., Uadar Peiris 6 for 48, Malith Gunatilleke 2 for 38) and 230 for 5 at close in 68 overs (R.C.K. Ambagastota 22, B.M.B. Ekanayake 15, U. A. Wijesiri 24, R.Y. Sooriyarachchi 77, R.M.J.C. Ratnayake 68; Malith Gunatilleke 30-6-71-5)
Lakshitha shines for Royal By Harry Jayachandra.
The inter school match between Royal and Prince of Wales was evenly poised at the end of the first days play at Reid Avenue yesterday. Right Arm Medium Pacer Lakshitha De Silva ripped through the top order of Prince of Wales and had them tottering at 89 for 6. But their tail led by Induru Gunasena who top scored with 48, helped the visitors to 177.
De Silva had fine figures of 4 for 38 at the break. But his efforts were undone by Royal's batsmen. Right arm seamer Romesh Tirimanne with 3 for 15 and left arm leg spinner leg spinner Tharindu Shivantha, had Royal in shambles at 98 for 8. The home team's fortune now rests on skipper Haroon Mowjood who was unbeaten on 15.
Prince of Wales 177 (Induru Gunasena 48, Sanka Peiris 26, Yohan Silva 21 and Rajitha Mendis 33; Lakshitha de Silva 4 for 38 and Haroon Mowjood 2 for 49)
Royal 98/8 at close (Feroze Ahamad 23, Romesh Tirimanne 3for 15, Tharindu Shirantha 2 for 18)
Stalemate at B'pitiya
The match between St. Anthony's Kandy and St. Peter's ended in a stalemate at Bambalapitiya yesterday. The home side replying to the Antonian first innings total of 244, were bowled out 220.
For St. Peter's Srimantha Wijeratne top scored with 44. Kasun Ekanayake bowled best for the visitors, finishing with 4 for 38.
St. Anthony's batting a second time, made 104 for 4 at close.
St. Anthony's Kandy 244 and 104 for 4 (Malinda Perera 62 and Kasun Ekanayake 22. Lakshan Rodrigo 2 for 28).
St. Peter's 24 for 1 overnight continued 220 all out. (Srimantha Wijeratne 44, Krishan Magage 35 and Lyle Peiris 31. Sahan Paliyakkara 3 for 66 and Kasun Ekanayake 4 for 38).
Trevin scores unbeaten ton
Trevin Fernando's unbeaten 127 studded with 17 fours and 2 sixes, was the highlight of the first days play between St. Sebastian's and St. Sylvester's played at Moratuwa yesterday. Fernando's performance is all the more creditable as his side could only muster189 in their first innings. Earlier fast bowler C. Ranaweera had ripped through the home side's top order. Ranaweera ended with figures of 5 for 58.St Sebastian's hit back strongly to leave their opponents precariously placed at 107 for 9 wickets at the close. The Sylvestrian tormentors were quick bowler Charith Fernando who claimed four scalps for 39 runs and left arm spinner Anoop De Alwis who had taken 3 wickets for just 11 runs.
St. Sebastian's 189 (Trevin Fernando 127 not out and Ayesha Perera 15. C. Ranaweera 5 for 58 and C. Silva 3 for 45.
St. Sylvester's 107 for 9 at close (R. Karunaratne 33 and C. Ranaweera 19. Charith Fernando 4 for 39 and Anoop De Alwis 3 for 11)
St. Anne's defeat Vidyartha
A telling bowling performance by Annite Amaranath Wanninayake (8 for 41) helped his school to defeat Vidyartha by 149 runs at Peradeniya yesterday.
St. Anne's 240 in 62.5 overs (Y. Ranamale 39, R. Madusanka 33, Shanaka Silva 32, D.C. Gunasekera 24 n.o; D. Senanayake 3 for 40, M. Weerasejkera 2 for34, S.M. Kaushalya 2 for 25) and 120 for 7 dec in 31.5 overs (Prabath Aravinda 77, R. Madusanka 35 n.o; D. Senanayake 2 foe 24, M.S. Wijekoon 4 for 20)
Vidyartha 54 in 22. 5 overs (M. Wijeratne 17, C. Pathirana 3 for 9, A.S.Wanninayake 3 for13, S.Silva 3 for 25) and 168 in 64.3 overs ( S. Abeyratne 45,D. Senanayake 15, M. Weerasekera 34, N. Basnayake 23; A. Wanninayake 5 for 28, J. Gunnaseklera 3 for 19) - AK