It's the right treatment
Specialising in curing female disorders through homeopathy, Dr. Yasmin Latif Fazil, daughter of well-known homeopathic physician, Dr. M. Abdul Latif, outlines the benefits of this alternative medicine
Constantly troubled by stomach pain, headache and fever and irregular periods, Chamila finally sought medical help. It was an ovarian cyst, her diagnosis revealed. Having taken drugs for the symptoms earlier without much relief, she was keen to try homeopathy. Two weeks into the treatment she was relieved of all symptoms. Eventually her normal menstruation cycle resumed and a scan taken three months later showed no cysts.
Prema also swears by homeopathy treatment. "It really works," she insists of the therapy that she considers safe and effective for the entire family. Not only has the natural remedy helped cure them of the occasional minor ailment, it has built a strong immunity, keeping them well protected from the more harmful illnesses.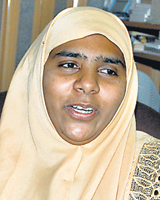 Dr. Yasmin Latif Fazil
"We treat the person and not the disease to bring about a permanent cure," explains Homeopathic Medical Practitioner, Dr. Mrs. Yasmin Latif Fazli. Over the last few months she has treated many patients afflicted by Chikungunya, relieving them of all symptoms within five days, leaving no side effects.
Dr. Yasmin says they aim to treat the patient according to the totality of symptoms. Hence if three members of the same family have the flu, but with symptoms that vary, their medicine would also vary in composition based on the patient's medical history. It is quite different from allopathic treatment where the same medicine or antibiotics would be prescribed for all suffering from an ailment, she adds.
Homeopathic medicine that has been around for about 200 years as its name indicates, is based on the principle 'like cures like'. The medicines used in the therapy stimulate the body's defence mechanism to correct illnesses naturally. Founded by German Dr. Samuel Hahnemann, the branch of medicine uses micro doses of natural ingredients from plants and minerals to stimulate the body's healing forces.
Frustrated with conventional medicine that was only able to give relief and not a cure, Hahnemann studied the Cinchona (Peruvian bark extract containing quinine) that had been used as a remedy for malaria.
He found that the Peruvian extract given in crude form to a healthy individual produced symptoms of malaria whereas diluted doses of the same potion given to patients ill with those symptoms cured the patient.
Recent clinical trials show the effectiveness of homeopathic remedies to treat a wide variety of illnesses: infectious diseases such as flu and colds and chronic conditions such as allergies, asthma, migraines and pre-menstrual symptoms.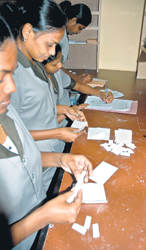 Medicines being prepared at the clinic. Pix by Lakshman Gunathileke
They have shown positive effects on treatment of dermatological complaints, female disorders and mental and emotional disorders.
Advocating the alternative medicine, Dr. Yasmin explains that conventional medicine is tested on animals while homeopathy that is natural and non-addictive is tried on healthy human beings who are able to talk and express symptoms. Further in homeopathic treatment the tablets are placed on the tongue to treat nerves, thereby enhancing the body's ability to fight infection and cure itself. Allopathic medicine on the other hand only relieves or suppresses symptoms, causing them to reoccur or develop side effects, she says.
Dr. Yasmin prepares medicines at her clinic, their potency varying to suit the patient's requirement. Most of them are in tablet or powder form, their base consisting of either fat free goat's milk (lactose) or cane sugar mixed with herbal homeopathic remedies. The highly individualised treatments are based on a person's genetic history, personal health history, body type and present status of all physical, emotional and mental symptoms.
Perhaps their popularity with children and adults alike can be attributed to their form and taste that makes them easy to consume. However, one must keep in mind to take the medicine half an hour before food and refrain from coffee, mint, and bitter gourd.
Although Dr. Yasmin sees patients with different illness, she has specialised in female disorders such as ovarian cysts, fibroids, painful menstruation, excessive bleeding, breast tumours, abdominal cramps, vaginal discharge, menopausal symptoms, etc., most of which she has helped cure in about four months.
In children, she treats wheezing, infantile eczema, sinusitis, catarrh and various fevers. As for blood pressure, Diabetes, kidney stones and psoriasis she guarantees a cure if patients begin treatment at an early stage.
The period of treatment apparently varies from patient to patient - normally three days or longer, depending on their immunity. "The effects are gradual with small improvements seen every day," she says adding that the medicine acts fast on children and pregnant women.
Trained in Lahore, Pakistan, Dr. Yasmin who won the best student award in her batch is the daughter of well-known homeopathy physician Dr. M. Abdul Latif. Having practised under her father for six years, and working at the Welisara Government Hospital Dispensary for 10 years, this is her 12th year on her own. She is currently the Secretary of the Sri Lankan branch of the Asian Homeopathy Medicine League of the Sri Lankan branch.