Alleged plot to harm President
Sacked minister's confidant faces arrest
Mahinda says conspirators linked to LTTE
Barely 24 hours after the sacking of three Ministers, President Mahinda Rajapaksa has ordered a top-level Police inquiry into what is being described as an alleged conspiracy to cause physical harm to him.
The move, highly-placed Government sources told The Sunday Times last night, centred on a number of issues. Main among them is claimed to be statements by a Government politician that the head of Government (i.e. the President) would be finished in three months. At the same time, a Sri Lankan in the United States monitoring websites has reported that an internet address that was favourable to President Mahinda Rajapaksa had been hacked into. An unknown party had planted a report that has also said that the head of Government would be finished in three months.
The three-month period posted in the website, these sources said, would have ended by April 14 – the period during which Sri Lankans observe the Sinhala Avurudu. The implication of the report in question, the sources argued, was that some harm would befall President Rajapaksa either before or during this period.
The Chairman of a state organization until this week, a businessman and publisher closely associated with expelled Ports and Aviation Minister, Mangala Samaraweera, is to be taken into custody in this regard. Besides the alleged conspiracy, The Sunday Times learns, he is also to be questioned on alleged links with Tiger guerrillas. That is said to include some business deals including alleged money transactions which were reportedly detected by the Customs.
Addressing members of the Sri Lanka Freedom Party All island Executive Committee meeting last evening at Temple Trees, President Rajapaksa also declared that there was a conspiracy with the help of the LTTE to assassinate him.
He said that the Editor of the astrological newspaper at Lake House, a supporter of one of the sacked Ministers, had published a forecast that it was a bad period for a State leader. Another astrological newspaper, also edited by a supporter of the same Minister, had spoken of the same thing.
On Friday night President Mahinda Rajapaksa sacked three ministers – Mangala Samaraweera (Ports and Aviation), Anura Bandaranaike (National Heritage) and non Cabinet rank Minister for Ports Development, Sripathi Sooriyarachchi.
Within hours of the move, security details attached to them were withdrawn. The only exception was the assigning of two policemen, the normal security detail provided to all MPs. The highly placed sources told The Sunday Times that President Rajapaksa would hold the portfolios of the three ministers for the time being. "If the ministers realize their mistakes and make amends with an apology, they will have their portfolios (and thus their security)," the sources said.
Mr. Samaraweera was away in Singapore on a private visit and is due in Colombo tomorrow. He is expected to address a news conference on Tuesday together with Mr. Bandaranaike and Mr. Sooriyaratchi.
Meanwhile days before being sacked, Mr. Sooriyarachchi is learnt to have written a lengthy letter to President Rajapaksa complaining about corruption.
There was also serious concern at the highest circles of the Government over the explosion of an improvised explosive device at the Deyata Kirula exhibition at the Bandaranaike Memorial International Conference Hall (BMICH). A pressure mine had exploded when a Police commando was engaged in a demonstration. A CID investigation is now under way and those responsible, highly placed sources said, would be charged wih criminal negligence.
Defiant Mangala hits out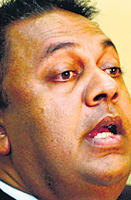 "I am not surprised at President Mahinda Rajapaksa's decision to sack me and two other Ministers," ousted Ports and Aviation Minister, Mangala Samaraweera told The Sunday Times yesterday. He said he knew it would happen.
Speaking on the telephone from Singapore where he is on a three-day private visit, Mr. Samaraweera charged that "when cowards are consumed with hatred anything is possible." He charged that President Rajapaksa was taking the country on a dangerous and disastrous course. He said that since he was now stripped of his portfolio, he had the opportunity to speak freely of what is going on in the country that is gripped with abductions, killings and embroiled in a humanitarian crisis. He said he (together with the two other ousted Ministers) would address a news conference on Tuesday.
Black flags came up in some parts of Matara yesterday in what seemed a mark of protest over Mr. Samaraweera's ouster. There were also slogans painted on tarred roads which said "Mangala, Api Oba Samaga" or "Mangala we are with you."