Rowing Champions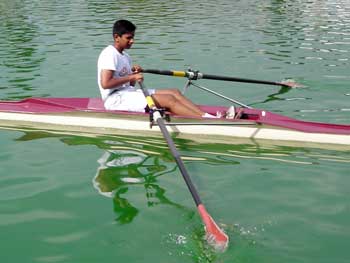 Junior Skull - Ashen Balasuriya
Rowing has got to be one of the most tiring sports on the planet… imagine spending hours in a little boat in all sorts of weather, rowing till you get blisters on your hands? Doesn't sound like much fun does it? Surprisingly, the guys from Ananda College say it is. Of course, they win a lot, and that helps. For instance, just last year the team won the Gold and the Bronze in both the Under 17 and the Under 15 categories of the Joes Sculling Championships.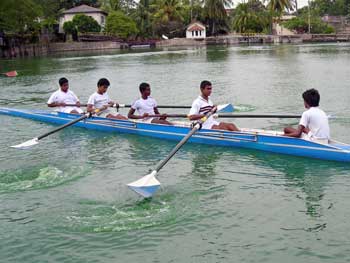 Junior Fours - Bow - Chanuka Kotigala, Charindra Dahanayake, Reshanka De Mel, Stroke - Isuru Kotigala, Cox - Yashoda Suriyapperuma
Isuru Kotigala, one of the young members of this winning team points out that dedication and commitment is everything. "Everyday we start training early in the morning," he says, explaining that a rowing crew often has to practice twice a day, all seven days of the week. They lift weights, go for runs, and exercise vigorously to build up the stamina and strength they need. Why go through all this effort? The answer is simple – "We love this sport," says Isuru, adding that even having rowed for six years, he'll never get bored.
Rowing as a sport offers a lot of lessons on living as well. Isuru explains that in the average race, an oarsman will have to row for 1000 metres. "Normally when we reach 800 we want to give up," he reveals, instead they give that last bit their best shot. "What rowing teaches us is never to give up in life," he says.
2007 is going to be a good year for the Ananda College Rowing Crew, popularly known as ACRC. "We expect to win everything this year," says Isuru. However, even if they lose (unlikely though he thinks the possibility is), "We know we've given it our 100%..."