Depressed Japanese princess a 'prisoner of the palace'
By Mie Kohiyama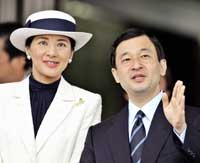 Princess Masako and Crown Prince Naruhito
TOKYO, (AFP) -For the past three years the health problems of Princess Masako, wife of Japan's Crown Prince Naruhito, have kept her out of the public eye while making her a subject of fascination. In an unauthorised biography on the woman sometimes compared to Britain's Princess Diana, Australian investigative journalist Ben Hills says Masako is receiving the best of medical care -- but predicts she will continue to suffer.
"Princess Masako: Prisoner of the Chrysanthemum Throne" was published in November in Australia and a month later in the US. It will be published in Japanese around March. It tells the story of Masako Owada, a former diplomat who speaks several foreign languages and had a brilliant career ahead of her when she agreed -- not without hesitation -- to marry Crown Prince Naruhito in 1993.
Overnight, as tradition dictates, she had to give up her family name and her right to vote, and submit herself to the rigid protocols of the court, overseen by the Imperial Household Agency -- a bureau of more than 1,000 civil servants tasked with watching over the 23 members of the royal family.
"I remember writing at that time that I just couldn't understand why a smart educated woman would want to bury herself in this medieval monastery," recalled Hills, who was then a Tokyo-based correspondent for Australian newspapers. The journalist followed Masako's life in Japan, and at Harvard and Oxford where she studied.
The palace repeatedly turned down his requests for an interview with Masako, telling him it had never been done. The household agency also refused to talk to AFP about the book. Hills said he spoke to around 60 people including royal experts and journalists, as well as people close to Masako and the royal family. From his interviews, he was able to pull together a profile of Masako's complex personality which he describes as "brilliant and fragile". He traces her itinerant childhood, during which she lived in Russia and the US as her family followed the diplomatic and academic career of her "strict and ambitious" father Hisashi Owada, now a judge on the International Court of Justice in The Hague.
It goes into own stellar academic achievements and diplomatic career in which she shone and was earmarked for success. But the fairytale ended after her marriage to the prince as she came under intense pressure to produce a male heir to the world's oldest monarchy. Hills says Masako underwent hormone treatment and conceived her daughter Aiko, who was born after nine years of marriage, through in vitro fertilisation. In support of this claim, he points to the palace's appointment in 2000 of an IVF specialist, Osamu Tsutsumi.
In September, Masako's sister-in-law Princess Kiko, the wife of the emperor's second son Prince Akishino, gave birth to Prince Hisahito, the first boy born to the family in four decades. The royal birth has eased some pressure on Masako, Hills says. But she has not yet completely recovered from her illness, a fact recognised by the palace.
Masako, who turned 43 in December, has not fully resumed her official duties and is still receiving medical treatment. "She is now receiving good modern treatment. She is receiving some drugs, she has an accomplished psychiatrist," Hills said. "But even if he manages to bring her back, the palace pressure comes as a rollercoaster. She will keep having her ups and downs. She is never alone.
Never."Hills believes only divorce or a decision by Naruhito to give up his claim to the throne would bring Masako the freedom he says she craves. The Imperial Household Agency, he says, would not oppose a divorce, although it has officially denied it. "They were opposed to this wedding in the first place. They didn't want a highly educated diplomat," he said. "They wanted a dutiful little doll who would walk two steps behind her husband."But he says the crown prince is in love with his wife and would not countenance a divorce any more than he would consider giving up his claim to the throne.
"Naruhito is very dutiful and he has been training all his life to become an emperor and would not renounce," Hills said.
"It would be like betraying this obligation and would cast shame on Masako's family."