Children's art rekindles horrors of 2004 tsunami
Canadian non-profit organization C2C (Community to Community) Assistance and local partner IDEAS recently concluded an art competition in Balapitiya, in the District of Galle. This event was part of a larger fund raising effort for long term tsunami relief and rehabilitation in Sri Lanka, following the devastating tsunami that destroyed lives and livelihood in 2004.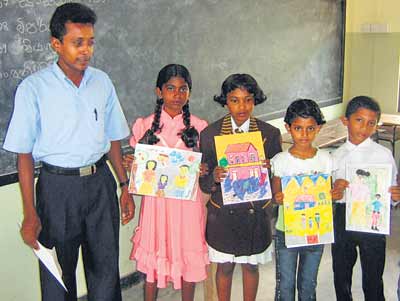 Winners of Siddartha College with their paintings and Art Teacher
The competition was open to children between the ages of eight and 12 in both Canada and Sri Lanka. Two local schools, Siddhartha College and Hegalle Maha Vidyalaya submitted 150 entries for the competition and these young artists were asked to convey their thoughts about the statement, "I feel safe when …," through their works of art. Most of the pictures depicted powerful images of the 2004 tsunami, which has severely affected the lives of the young artists.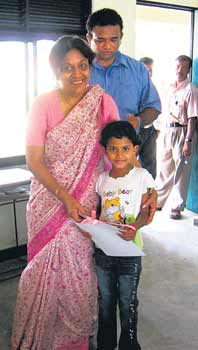 1st Winner with Artist Marie Alles Fernando
The pictures were judged by a panel of three judges who were selected based on their direct involvement with Sri Lankan arts and crafts. One of Sri Lanka's best known contemporary artists Marie Alles Fernando and Rehana De Soyza, a graduate in the field of textile design contributed their expertise and knowledge of art towards the judging of this competition. Their task was to select 20 pictures that best expressed the statement, " I feel safe when…," as well as demonstrated skill in the use of the artists' chosen media.
The young artists had used a variety of media including water colours, acrylic crayons and coloured pencils to bring their vibrant pictures to life. Prizes ranging from Rs.10,000 to Rs. 5,000 as well as complimentary gifts and certificates of participation were awarded to all the students at a prize giving ceremony held at the two schools.
The chosen art works will be sent to Canada to be exhibited alongside the winning entries from a similar competition being held coincidentally in London, Ontario.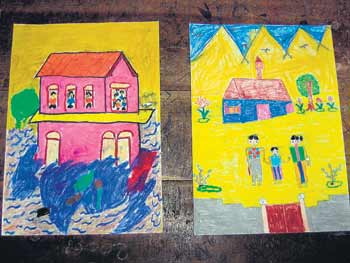 Paintings of st & 2nd Winners (Siddartha MV)
To recognize the top artists from both countries and also renew awareness about tsunami rehabilitation work, a reception will be held in London, Ontario later this year. After this exhibition, all the art work will be permanently exhibited in the brand new community centre that is being built in the seaside town of Duwe Modera.
C2C's main project in Sri Lanka is to restore livelihood and engage in long term rehabilitation. For this purpose, C2C was successful in securing a grant of C$125,000 from the Canadian Auto Workers (CAW) Social Justice Fund in 2005.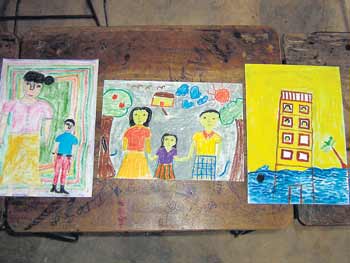 Paintings of 3rd, 4th, 5th Winners (Siddartha MV)
With collaboration from the Sri Lankan non-governmental organization IDEAS, C2C identified the rural town of Duwe Modera, in the Galle District, to carry out a rehabilitation project. Since the tsunami devastated the area, IDEAS has independently built and donated several houses to the residents of Duwe Modera. Recently, C2C and IDEAS acquired land and commenced the ground work for building a community centre in the village.
Once completed, the community centre will offer the citizens of Duwe Modera and surrounding areas a venue to meet, organize and carry out various livelihood rebuilding activities. The building will also house a medical clinic, phone, fax & internet shop and a technical training facility for the village youth.