From riches to rags
* Arjuna speaks on allround decline of Lankan sport
The present affairs in national sports seem to be in total disarray. At present we are struggling for survival in the very sports that we were dominating and more than once produced world champions may be a decade ago Though we appeared to be a dominant force at the last SAG held in Colombo, we were similar to fish out of water at the Asian Games three months later coming home with an almost empty kitty of a silver and two bronze medals after flying out the biggest contingent to the games ever. That is in athletics. Then even in the sport that we are really good --- cricket the Lankans are struggling and have already lost the first of the two Tests in New Zealand while the other is in progress.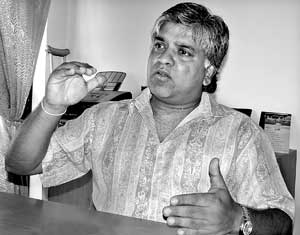 "You have to be tough and honest, the first thing that I will do is to throw out all the unwanted people. I will be very unpopular, but, if one has to get a job done one has to take tough decisions. We have to get the right people to the right positions that is the Mahinda Chinthana that we are talking about. We talk big about the 'Mahinda Chinthana', we went campaigning and said 'Hekiyawata Rekiyawak, but if that happened in reality we would have sorted out most of these prevailing issues. What I say is if we can implement what the president wants us to implement we will be in a different aura."
From riches to rags the musings wanted get an insight from a person who had guided Sri Lanka to the very peak of a given sport and thus brought world accolades to this tiny island nation. In our quest we did not have to travel very far – the Cricket's World Cup winning name of Arjuna Ranatunge ran across my mind like a screaming banner.
In spite of just overcoming a telling bout of flu the former Sri Lanka cricket captain agreed to speak on the subject of what ails the Sri Lankan sport at present as it also had been bugging him for some time now. Then his thoughts kept on flowing "Primarily as I see we should have a national policy for anything. We don't have a national policy not only in sport – you take from finances to anything in parliament we do not have a national policy. First and foremost we must sit together and formulate a national policy for sports. For the past four years I have been fighting for this. Otherwise what happens is that when one minister comes he will do as he wants and then when a government changes another one will take his seat and follow a completely different routine.
"For instance take India they are working with a national policy, who ever takes the portfolio at any given time there is continuity in their formulated national policy on a given matter. Sadly we do not have one. However I must mention that when S.B. Dissanayake was the minister of sport we could relate to him quite easily because he understood what sport was and also he had a set of good advisors. Unfortunately after the S.B's period our sports started declining and still it is going down. My observation is that we should analyse as to how good we are. I think we are a very talented nation sports wise. Sadly people who run sport do not realize that.
"For instance if you go overseas people there would not know who the president of this country is, but they would know who Muralitharan is and where he comes from, they would know who Aravinda de Silva is and from where Aravinda de Silva comes from and they would know who Susanthika Jayasinghe is and from where she comes from. That is a basic truth and people that matter should know it. In sport we have something that we can take to the world and we hardly do it.
Then Arjuna Ranatunge explained how he was listening to the Asian Games analysis of renowned athletic personality Yogananda Wijesundera and how much he was surprised on the in-depth knowledge that he possessed of the game, but, was sad at the same time that the present administration was side-lining personalities of this nature. He said that he intended meeting Yogananda shortly and having a discussion with him on athletics for his perusal. Arjuna added that like Wijesundera there are a lot of former sportsmen and women who would like to involve themselves in their specialized territories, but, there was a well organized Mafia that saw to it that they stayed out.
For this situation, Ranatunge blamed the prevailing sports culture. He said "Most of the sports bodies are run either by the friends of the ministers or the president or other ministers. You cannot do that. For instance take the smaller sports or to put it a nicer way the sports that do not get sufficient funds, you have to find people to run them. But, when it comes to sports like cricket, athletics and football only a certain group wants to dominate forever, why, because these sports have the money to back them".
Then Arjuna questioned the wisdom of sending this huge contingent of athletes to Doha. He was of the view that it was wastage of money. "Do you send huge contingents just to gain experience? I don't agree with that in addition to the huge contingent of sportsmen and women there are also a larger number of officials and others following them, it's only a waste of money".
"In Doha Susanthika was the only individual who brought back a medal for the country. Some said that she was old, but, finally she delivered the goods. She did it because she had attained the standard. Why couldn't the others do the same? These are the questions that we have to find answers to. Sending a so called biggest contingent with people just to fill in the blanks is not the criteria. Just to tell the world that we just participated at the Asian Games is not the criteria. If we send a cricket team just to participate in the next World Cup will it be enough. Yes, it was enough thirty years ago. In 1975 when we just participated in the World Cup it was an achievement, but, it is no longer so. Now we have to send a team that can win the World cup. Now we have come to a position of that nature and we have to maintain it".Then when we confronted him with the question of if he was appointed the minister of sports tomorrow how would he get about in practicing what he is preaching, his answer was "You have to be tough and honest, the first thing that I will do is to throw out all the unwanted people. I will be very unpopular, but, if one has to get a job done one has to take tough decisions. We have to get the right people to the right positions that is the Mahinda Chinthana that we are talking about. We talk big about the 'Mahinda Chinthana', we went campaigning and said 'Hekiyawata Rekiyawak, but if that happened in reality we would have sorted out most of these prevailing issues. What I say is if we can implement what the president wants us to implement we will be in a different aura".
"Take sports out it can be anything, every step that we take forward we are taking two steps back. As parliamentarians we are answerable. For the last four years I have brought certain matters to the notice of members, ministers, prime ministers and presidents I have asked them to conduct an inquiry and punish one person if you punish one person and then others will refrain from doing those deeds thereafter."
"Luckily cricket has a lot of professionals who are involved with the running of the game employed in the board without them there at those positions we would be struggling in this game too. However come the next World Cup most of the seniors will be out, in all probabilities, Jayasuriya may be out, Marvan Atapattu may be out, Vaas may be out, you have to be very careful with Muralitharan. If so we will be left with a huge vacuum. Do we have a proper second team? Are there any players who can just walk in take over? When we were seniors, we saw Mahela Jayawardena, Kumar Sangakkara, Russel Arnold, Thilakeratne Dilshan coming in I am not pointing my fingers at the selectors but, I think we do not pick the best possible side. I am sure there are influences on selections. I will not talk about the people who are on tour, but I will talk about people who were left behind. Take Nuwan Zoysa, take the tour to England, tour to New Zealand if you don't take Nuwan Zoysa it's a crime. People may say that he is not fit enough. But, if he can play here and perform here, take him. And if breaks down send him back. Then take Upul Chandana I feel he is still one of the best utility allrounders in this country. He is the stand bye for the Test series but not for the one-dayers. Then take Avishka Gunawardena, if something happens to Jayasuriya (hope not) who is going to do the openers job? I think there are some players who do not like see young players coming in. We never allowed that to happen when we were the seniors. Thereafter leaving Kapugedera out there is almost no one that has come in where batting is concerned. We are struggling to find names. "These are the issues that were trying to address when we were in the cricket committee. It was a top class cricket committee with most of the past cricket captains, we used to meet, discuss matters and then we pass on our reports to the interim committee the suggestions are then not implemented. For instance for them to give two vehicles to Ruwan Kalpage and Champaka Ramanayake who joined in as coaches it took them six months. Can we sit in those chairs and just wait? I can't! On my part I want results or else they must give reasons and or why they can not do so. But, for some before they join the board the vehicles are waiting for them.
"Then we wanted to get this provincial tournament set off, but, some are more interested in continuing with the club system, why because club cricket brings in the votes. Sidath and I put in a lot of effort and wanted a provincial tournament in line with the Australian and South African concepts, but it did not work. I am not saying to do away with Club cricket, but to give more prominence to Provincial Cricket; there we would have quality instead of just quantity.
Speaking of the present form of the Lankan national team the former Sri Lankan skipper said "I am not overly concerned about the slight slump that we are going through in New Zealand at the moment, Sri Lanka cricket has always been like that we always have a mix of ups and downs. My only concern is that did we peak a little too early like what is happening to India. However I am sure if we can pick the best available fourteen we can win another World Cup. We have to have proper planning, proper guidance, we can have some guidance from past cricketers like Aravinda are we using them to the proper effect? When the team was in England I suggested that we should get Aravinda involved in our machinery, but that did not happen. It's not like going into the middle and having a chat with them while they are at practices. We must get them involved in a professional manner. Take the batsmen, still we can not compare any one with Aravinda or Roy Dias. If only Mahela can get 70 per cent as versatile as Aravinda or Sangakkara can get 70 per cent as classy as Roy it would be a different story. Ironically batsmen in the calibre of Aravinda de Silva only come once in a life time.
"Imran Khan whom I rate as the best cricket captain that the history of cricket has produced named Roy Dias as his number three batsman in his all time World Xl. But ironically are we using these past cricketers? Is it that we want Aravinda to go on air giving TV commentaries and talk good cricket? We must get the help of these guys to build our own cricket. If we can pay 15,000 dollars to a foreign coach why can't we pay 10,000 dollars to one of our own?
When asked about his views on home grown coaches Arjuna's answer was "I have nothing against Moody. However we missed a golden opportunity. When we contracted Moody we had the idea of getting Roy Dias or Rumesh Ratnayake as the assistant coach, but, the IC did not communicate with them properly and at the same time we were also not consulted, that was the other reason that Sidath and I resigned from the Cricket Committee.
"Now John Buchanan, the Australian coach has announced his retirement from his present post after the next World Cup. The main contenders for the post are our Tom Moody and the Indian coach Greg Chappell. By chance if Moody decides to take that job after the world cup once he completes his contract what will happen? In all probabilities most of the present seniors will not be there after the World Cup. Then at the same time the regular coach also may not be there at the same period. Won't there be chaos? Then if we had Rumesh or Roy groomed as assistant coach there would not be a problem. Now when a new foreign coach comes in he does not know the guys in the 'A' team. He does not know how our structure works. Then it would be difficult.
"Finally what we lack in every sphere of sport is proper planning and speaking about what I know – that being cricket what I say is that at present we are stagnant and we survive at the top through sheer inborn talent. But, other countries like Bangladesh, New Zealand are moving up with proper plans if we do not look out we will be sorry in the near future"