Pakistan wants doping issue closed
KARACHI, Dec 16 (Reuters) - Pakistan has insisted the case of fast bowlers Shoaib Akhtar and Mohammad Asif being exonerated of a doping offence is closed after the World Anti-Doping Agency (WADA) said it would take the matter to the Court of Arbitration for Sport.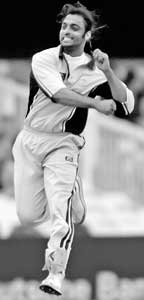 Shoaib Akhtar
WADA chairman Dick Pound said in an interview with the BBC that his organisation would challenge Pakistan's decision to lift long-term bans on Shoaib and Asif. "We have no comment on this. As far as the Pakistan Cricket Board is concerned the matter is closed," PCB chairman Nasim Ashraf told reporters on Saturday.
Shoaib and Asif were exonerated by a PCB appeals tribunal last week after they were earlier banned for two years and one year by a drug inquiry panel for testing positive for the banned steroid nandrolone.
Pound said WADA would contest the decision on the basis that the International Cricket Council is signed up to the anti-doping code and Pakistan, as one of its full members, should therefore be subject to its provisions. "The two players tested positive. They have not even asked for the B samples to be analysed, so they accept the result [of the initial tests] and the PCB simply did not apply the code," Pound said.
Another senior PCB official said that the board was expecting some reaction from WADA.
"We are satisfied with the way this case has been handled. But we are prepared for any challenge from WADA in any court, he said. "We have already consulted our team of legal experts and if the need arises we can also hire experts on doping policies to contest our case."
Pound also criticised the ICC for failing to take decisive action over the matter and said WADA would exercise its responsibility in the case. "If we are successful in this, I think it will be a matter of considerable embarrassment to the ICC that it did not act," Pound said in the interview.