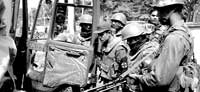 Soldiers inspecting the truck caught up in the blast. Pic by Ranjith Jayasundara
Claymore blast and gunfire kill four civilians, five troops
Four civilians and five army personnel, including two officers, were killed in a claymore mine explosion and gunfire that followed at Thandikulum in Vavuniya last morning. The claymore mine planted near an agricultural school at Thandikulum on the A9 road exploded as an army truck was passing the road around 9.30a.m.
An army captain and Lieutenant were among the five army personnel killed. Four soldiers and eight students were also injured in the incident. Eyewitnesses said that soon after the incident a group of soldiers guarding a sentry point near the Agriculture school had entered the premises and shot at the students at close range. Eight students were injured in the firing.
But Army Spokesperson Prasad Samarasinghe told The Sunday Times that soon after the explosion there was an exchange of fire and the students would have been injured in the crossfire. He said the police were investigating the incident.
Vavuniya Magistrate M. Illancheliyan visited the scene and recorded statements of some of the injured persons at hospital. He ordered Vavuniya Town Commander, Col Palitha Fernando to hand over the weapons of the soldiers who were on duty at the sentry point to the police for investigations. He said that if it was proved that the weapons had been used to shoot at the students, the soldiers should be handed over to the Police for further investigations.