Departing Annan's legacy capped with Darfur triumph
NEW YORK - As he prepares to leave office, Secretary-General Kofi Annan is on a fast-track diplomatic shuttle trying to strengthen his political legacy before he steps down at the end of December this year.
Annan's 38th floor offices in the UN Secretariat have remained virtually vacant as the outgoing Secretary-General has hit the road flying to some of the world's political hot spots, including the Middle East and sub-Saharan Africa.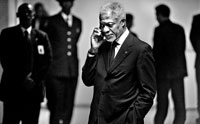 UN Secretary General Kofi Annan talks on the phone on Thursday during a pause in the high level talks on Darfur held in Addis Ababa, Ethiopia. AFP
Last week, he pulled off a diplomatic coup when he extracted a pledge from the intransigent Sudanese government to permit a hybrid UN-African Union (AU) peacekeeping force into the politically-troubled Darfur region where rebel leaders are being accused of war crimes and genocide.
Since Sudan had defied the Security Council by rejecting its proposal for a 20,000-strong UN peacekeeping force, Annan circumvented the opposition by coming up with the idea of a joint UN-AU force acceptable to the Sudanese government. The New York Times described it as a "personal triumph" for the departing Secretary-General.
Still, Annan is leaving behind an organisation that has been devastated by charges of waste, mismanagement and corruption, including findings of an Independent Inquiry Committee into the now-defunct, scandal-plagued, multi-billion-dollar UN's oil-for-food programme in Iraq.
The investigations found more than $10 billion in illicit funds and kickbacks funneled to Iraqi officials by companies bidding for UN contracts, for the supply of food and medicine to Iraqis subjected to UN economic sanctions.
Although Annan was in no way personally responsible for the mismanagement, it happened under his watch, and more so, under the close supervision of the big powers in the Security Council.
In January this year, the United Nations also suspended eight officials -- and sent them on "special leave without pay" -- following allegations of wrong doing, primarily relating to procurement.
In early November, one of the procurement officers was arrested on charges of steering more than 50 million dollars in contracts to a company in India in return for a New York apartment purchased at below market rates. The apartment was owned by the head of the Indian company which received the UN contracts.
And in August another high ranking U.N. procurement official was arrested and has pleaded guilty to conspiracy and money laundering.
Chris Burnham, a former US State Department official and the outgoing Under-Secretary-General for Management, paid a compliment to his boss when he told reporters last week that Annan laid the foundation for the road for a new UN into the 21st century.
Burnham, a controversial figure who triggered a political firestorm early this year by pledging his loyalty to President Bush while shedding his political neutrality as an international civil servant, said Annan's legacy in bringing the UN into a new era was primarily in terms of "accountability, transparency, ethics, efficiency and effectiveness."
With the creation of an Ethics Office, senior UN officials have to submit financial disclosure forms revealing their private financial assets. There is also a new whistle-blower protection policy which protects staffers against retaliation for reporting fraud and malfeasance in the UN system.
"We will soon have a culture that will not lie or cheat -- and that will not tolerate those who do so. And we should support men and women of courage who come forward to expose wrong doing," said Burnham.
The baton will be passed onto the incoming Secretary-General Ban ki-Moon of South Korea whose management style will come under close scrutiny beginning January next year. At the political level, will he go the way of most UN chiefs by caving into pressure from the five big powers -- the US, Britain, France, China and Russia -- or will he stand up to them? If so, for how long? And when big powers ask him to jump, will he say "how high" or will he say "No."
The new Secretary-General will also be inheriting a very expensive Organisation. The UN's regular budget has almost doubled over the last two decades reaching $2 billion annually. With the peacekeeping budget expected to reach a new high of $10 billion by 2007-2008, the collective UN budget could rise to over $12 billion during the new Secretary-General's five year tenure.
"Efficiency," says Burnham, "would be driven by the need to answer to people demanding a return on equity and effort by creating an effective efficient institution that was ethical, accountable and transparent." Obviously, it's a tall order.
Annan has claimed his 10-year focus has been on peace, security, development and human rights -- all marked both by limited successes and failures.
But with the US as the world's only superpower, the UN can do only as much as what the US permits it to do -- whether in Palestine, Iran, Iraq, Afghanistan or North Korea.
As the largest single contributor to the UN budget accounting for 22 percent of all dues, the US continues to have a stranglehold of the world body. As a result, in most instances, the UN has been forced to do US bidding. And the bottom line is that the UN cannot exist without the US and the US without the UN. Perhaps the new Secretary-General will learn it soon, or the hard way-- whichever comes first.