Richard Pieris' current year profits seen dipping - Fire destroys factory
Richard Pieris will need to move in fast on the reconstruction of the factory at Mattegoda to avoid the opportunity cost, which in turn will dip profits for this year, stock market analysts say.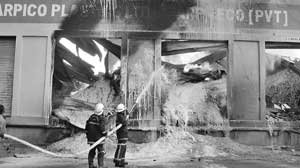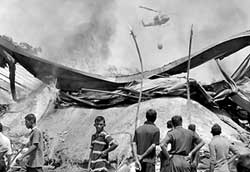 Pictures show firefighters trying to douse the flames and a helicopter helping in the operation.
The factory building belonging to Arpico Industrial Development Company Private Ltd, a subsidiary of Richard Pieris which housed the manufacturing activities of Arpico Plastics Ltd, Plastishells and Arp-Eco Limited, was extensively damaged by the fire last Tuesday.
The company, issuing a statement to the Colombo Stock Exchange, said that the production facilities and the goods have been insured and investigations are currently underway to ascertain the extent of the loss and the damage caused. "Last year, the company's rubber factory also caught fire. They need to have more reliable measures in the future to avoid a repetition," a stock market analyst told The Sunday Times FT.
During 2005 Richard Pieris Natural Latex Foam's factory at Biyagama was entirely destroyed by fire. There were no operations for nearly four months. The factory was re-built at a cost of Rs.240 million, with new machinery and enhanced capacity. During the non operating period the company incurred labour costs and other fixed overheads, which had a heavy drain on the profitability.