Another LTTE arms deal busted in US
Six South Asian arms dealers who paid undercover customs agents in Maryland hundreds of thousands of dollars to ship restricted, high-tech weapons to rebels in Sri Lanka and the Indonesian Army have been arrested by federal authorities in Guam, officials said.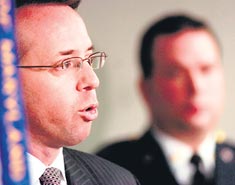 Maryland District Attorney Rod J. Rosenstein announcing the arrest of the suspects during a news conference in Baltimore. AP
The elaborate sting operation took centre stage in Baltimore this summer, where federal agents put up a Singapore arms broker at a four-star Inner Harbor hotel, arranged for him to attend religious services at a mosque in Laurel and took him to a shooting range in Harford County so he could test-fire machine guns they said he was interested in illegally buying, the Baltimore Sun quoted officials as saying.
The ruse, authorities said, led representatives of the Tamil Tiger insurgents in Sri Lanka to deposit $700,000 with undercover agents as a down payment for millions of dollars in sniper rifles, submachine guns and grenade launchers. The arms dealers also inquired about unmanned air vehicles and asked buying surface-to-air missiles to shoot down Israeli-built aircraft in Sri Lanka, according to federal court papers.
The disclosure again highlighted how attractive Maryland appears to be to arms dealers who want to buy banned state-of-the-art weapons in a state rich with defence contractors. Officials said they have stepped up enforcement, pointing out that the original tip in the case was handled by a military technology task force set up by federal and local law enforcement in 2002 to root out those who attempt to export arms illegally.
Last month, FBI agents searched the office of a Cumberland physician who is president of a Sri Lankan charitable organization suspected of funnelling money to the Tamil Tigers. Officials said the two cases are unrelated.
"It's our commitment to make sure we do everything we can not only to make sure that terrorists don't attack us in the United States, but terrorists do not find any support here in the United States for their activities overseas," Maryland U.S. Attorney Rod J. Rosenstein said at a news conference on Friday.
Federal prosecutors charged all six defendants -- Haniffa Bin Osman, 55, of Singapore; Thirunavukarasu Varatharasa, 36, of Sri Lanka; and Erick Wotulo, 60, Haji Subandi, 69, Reinhard Rusli, 34, and Helmi Soedirdja, 33, of Indonesia -- with conspiracy to export arms and munitions.
Osman, Wotulo and Subandi were also accused of money laundering and conspiring to provide material support to a terrorist organization.
The defendants, arrested Thursday and Friday, travelled to the American-controlled South Pacific island to purchase night vision devices, sniper rifles, submachine guns with suppressors and grenade launchers. Federal prosecutors from Maryland will ask a judge in Guam tomorrow to send the defendants to Baltimore for trial. The maximum prison sentences range from five years on conspiracy to export arms to 20 years for money laundering.
The military equipment at issue, which can only be purchased in the United States by a licensed dealer for an approved customer, was to be shipped to the Liberation Tigers of Tamil Eelam and customers in Indonesia, including the army, according to court papers and interviews with federal officials.
Mark Bastan, acting special agent in charge of the Baltimore office of the Bureau of Immigration and Customs Enforcement, said the potential arms shipment would have weighed more than 3 1/2 tons and would have filled 14 pallets on a truck.
"American-made weapons and weapons technology are the envy of the world. And they give us a competitive military edge," Bastan said, adding that the mission to combat the illegal export of military technology was among his agency's highest priorities. The customs investigators were aided by agents from the Baltimore FBI, the Defense Criminal Investigative Service and the Baltimore Police Department.
Investigators said they set up their operations in 2004 when an arms broker suspect contacted an undercover customs agent about acquiring arms for the Tamil Tigers. According to court papers, the broker became the link in both cases, introducing federal agents to those interested in buying weapons for the Tamil Tigers as well as the Indonesian military.
The State Department labelled the Tamil Tigers as a foreign terrorist organization in 1997. The paramilitary organization cannot legally raise money or buy sensitive military equipment in the United States. But experts said the Sri Lankan rebels have skirted the ban by seeking out arms in other countries.
"They have a global arms procurement network" stretching from Croatia to South Africa to Singapore, said Peter Chalk, senior analyst at the Rand Corp., based in Santa Monica, Calif.
From March 2004 until April this year, Subandi told the undercover agent in Maryland that he intended to sell conventional arms and munitions to the Tamil Tigers, according to court papers.
On May 24, federal prosecutors said Subandi told agents that Osman, a representative for the Tamil Tigers, wanted grenade launchers and other weapons delivered to a spot in international waters off Sri Lanka's coast.
Wotulo, who identified himself two days later to undercover agents as a retired Indonesian Marine Corps general, entered the negotiations to submit a purchase order for nine restricted items totalling about $3 million, authorities said.
But it was Osman who travelled to Baltimore in late July and stayed at the Harborplace Renaissance Hotel. There, he told agents that the arms Wotulo requested were for the Tamil Tigers, and Osman knew the delivery would be illegal, according to court papers. Osman told agents that a subsequent order could be worth as much as $15 million, prosecutors said. On July 28, Osman test-fired several of the weapons, including machine guns, at a Harford County police range, according to the indictment.
The indictment says that on Aug. 2, undercover agents received $250,000 from a bank in Kuala Lumpur, Malaysia, as a down payment for the weapons purchase, expected to total $900,000. Osman and Varatharasa met with undercover agents in Guam to inspect the weapons on Monday, federal prosecutors said. They were arrested days later.