Mister guitar man
Ever heard Santana, Slash or Jimi Hendrix play? If not, don't feel too bad about it, because there's an answer in sight. Just close your eyes, open your ears and let Malik Seneviratne take care of the rest! Believe you me, you will not know the difference! Who is this great impressionist; he's one of, if not 'the' best lead guitarist Sri Lanka has ever produced.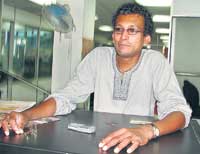 Pic by Berty Mendis
This being his 25th year in the music business and having played with popular bands such as Super Pink and Purple in the 80s, Twentieth Century, Take Five, Catch 22 and now with B'n'S since 2003, Malik is no stranger to the local music scene. However, his move of breaking away from his usual back-up/accompanying status, to actually churning out music of his own, is something well worth looking forward to!
Set for release early next year, Malik's debut album 'No Turning Back,' will feature a mix of jazz, funk, pop, rock and even a few Sinhala originals with a western flavour, he said.
This album, which is currently in the making, will be produced by his childhood schoolmate, Mahesh Denipitiya. It will comprise 14 tracks, (inclusive of a cover version of a Beatles' hit) featuring both instrumental melodies and other popular local vocalists, whilst he himself will do vocals for two of the numbers. His brother Dilip (best known for his performances with the Four Pianos) on piano and son Randev (a budding guitarist, mostly rock-influenced), also on lead guitar, will be featured on the album, he added.
Having been in and out of the music industry over the past few decades, the self-taught guitarist says that back when he was young, there was no easy way of learning the guitar online or via tabs etc, "Having had many uncles playing for popular bands at the time, I was interested in playing guitar from the time I was very young. I used to watch guitarists on TV, memorise the chords and whenever I could get my hands on a guitar, I would try the chords out and practice," he said reminiscing.
Once he got a guitar of his own, he learnt how to play by listening to a song, then rewinding it and re-rewinding over and over again, until he finally mastered it. "So it was no easy task," he said with a smile.
"Even though it's very easy to put an album together, as a result of the advanced types of software available today, I prefer doing it the old fashioned way, using live music, as I came up the hard way," Malik explained, adding "I like the raw sound of live music." Heavily influenced by the likes of Steve Lukather from the band Toto, Malik says that he even had the fortune of seeing him live in Germany. He also admires guitar maestros such as Larry Carter and John Petrucci, he added. "I have absorbed various different styles of many guitarists and have developed an original style of my own," he explained. He's a strong believer of versatility and originality and feels that the quality of the tone and melody of the music is vital for both guitarists and vocalists, alike. "If you're not able to convey some sort of message to your audience, it'll just be a pointless mass of noise," he said.
"My family is very supportive of my music and there's always music in our house, so it's quite obvious that we're all quite musical," he said appreciatively. He also has a tour of the States with B'n'S and other music-related ventures in the pipeline.
Malik has a guitar school where he teaches students from beginners to more advanced level, at the Sa-Re-Ga-Ma Studio (B'n'S office), in Narahenpita. He currently has a diverse group of about 30 very talented and keen students. Any interested students can contact Malik at m_mark52000@yahoo.com